Looking for a Quick and Free Crochet Scarf Pattern? Try this one!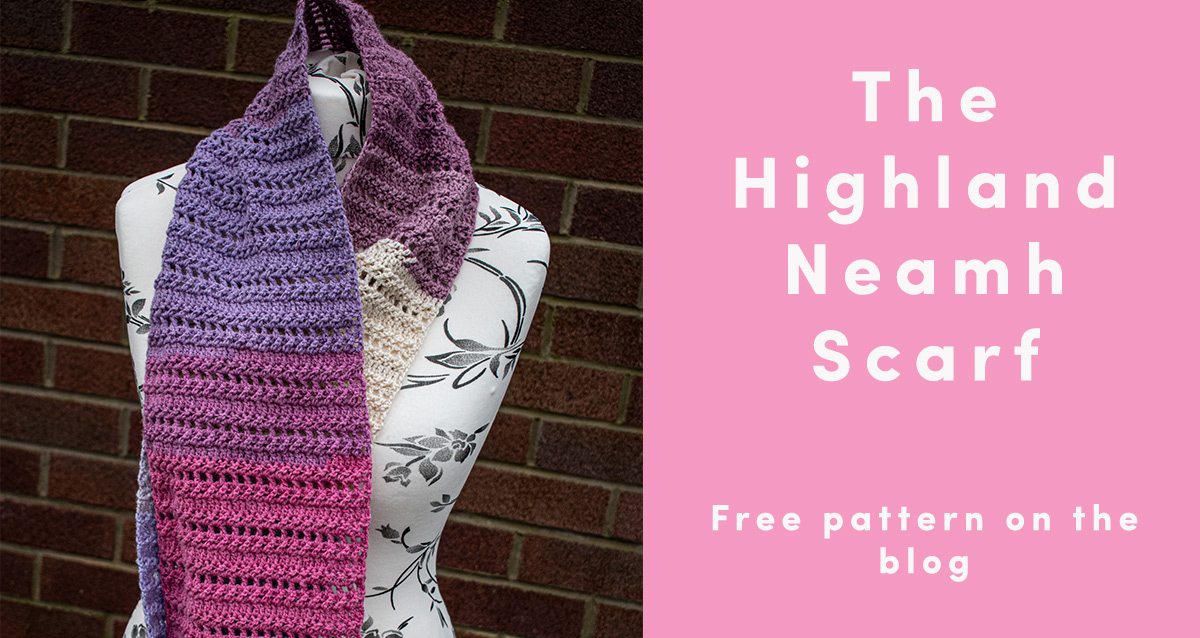 The Highland Neamh Scarf is a free crochet scarf pattern that works up quickly, is great for confident beginners and uses only one skein of Lionbrand Mandala yarn.
I have wanted to add a scarf to the Highland Neamh collection for a while. I already have the Highland Neamh wrap, the Highland Neamh Tee and the Highland Neamh cocoon cardigan. All of which are gorgeous!
Not only does the Highland Neamh crochet scarf pattern look great, I also thought it would be a good introduction to the stitch combo used in the other patterns. It would give the crocheters who are slightly less confident a good feel for the stitches before they dived into the other patterns.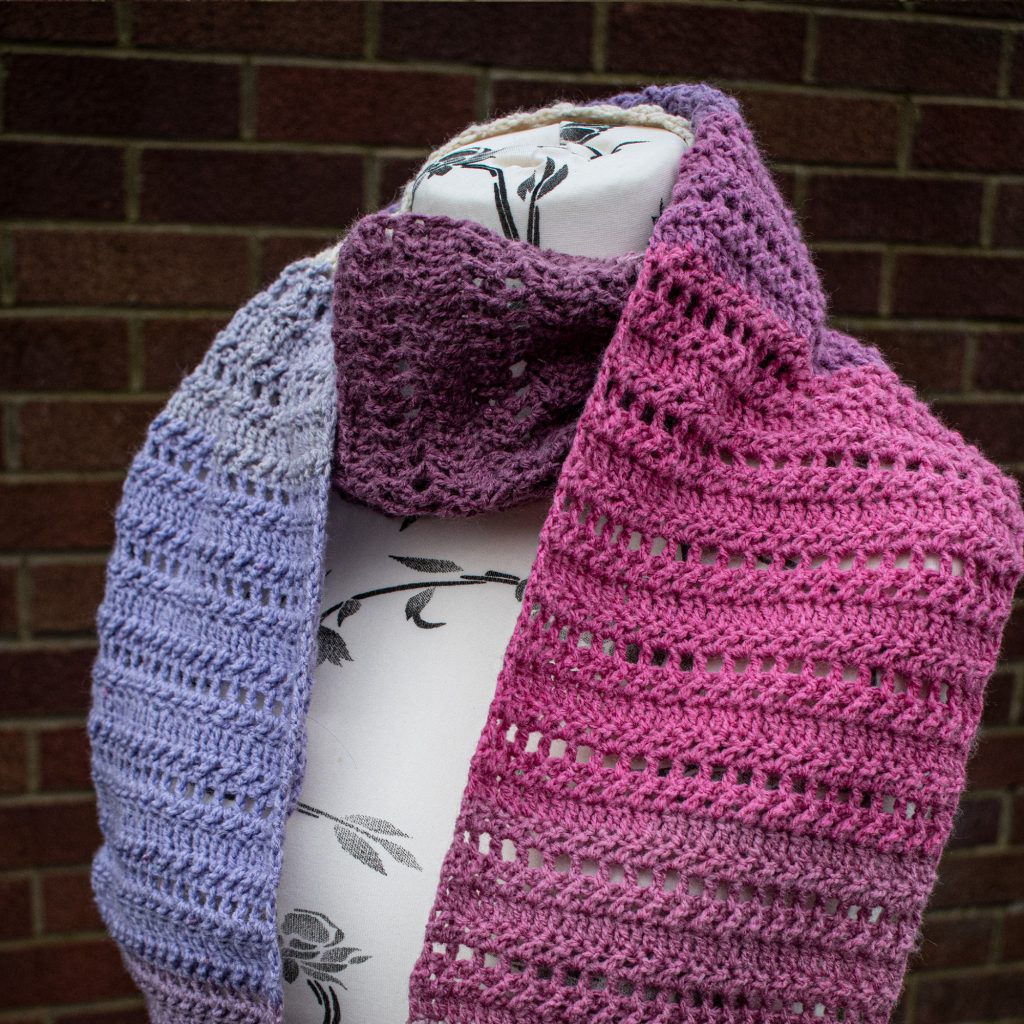 Here are the other patterns in the collection: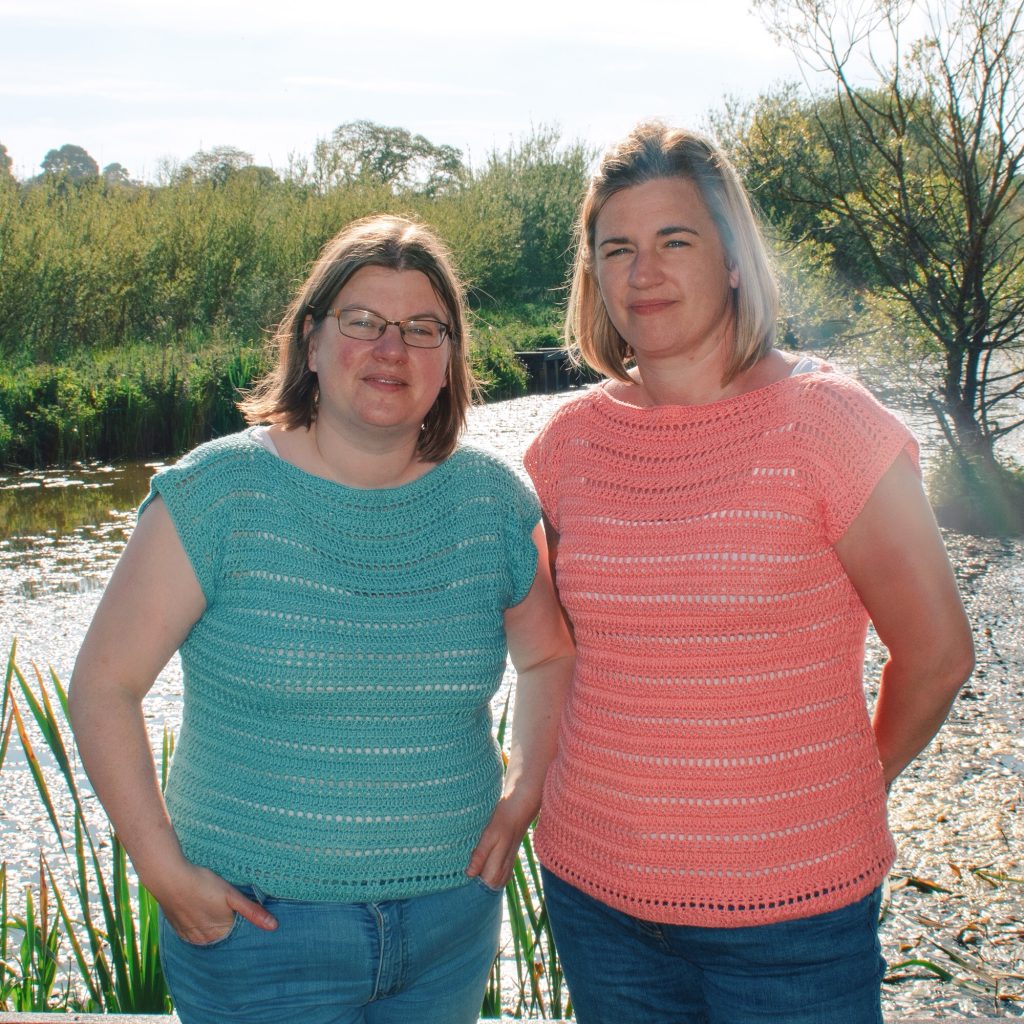 Inspiration behind the design
This free crochet scarf pattern is a great introduction to the stitches that I used in my Highland Neamh Collection. Although all of the patterns in the collection are really straight forward, a scarf seems a little less intimidating to make. So a scarf it was!
And a one skein project means that you can raid your stash and use up some of that older yarn that sitting on the shelf feeling unloved for a while.
By the time you have finished this crochet scarf pattern you will be a pro with the stitch combination. I suggest moving onto the tee next …. it is literally two rectangles sewn together! Super easy but looks fabulous.
It is also a great project to use your scraps and part used skeins. I am going to be sorting my scrap buckets in the next few weeks and creating some cakes with my part used skeins. One of the projects I want to use them for is another one of these scarves to add to my donation box!
You can use any yarn and an appropriate sized hook to make this free scarf crochet pattern.
I designed it with #3 weight (DK) everyday yarn in mind. That is Stylecraft Special, Paintbox simply DK, Lionbrand Mandala etc.
But you can equally use #4 weight (aran) yarn and a hook that is a size ro two bigger than stipulated below. Note: This will increase the width of your scarf and you may need slightly more yarn than the mandala version required.
I used 1 skein of Lionbrand Mandala in shade Wood Nymph for mine. Each skein is 150 grammes and has 590 yards. It is a #3 weight yarn so it does go a long way.
And being 100% acrylic means that this is fairly easy to look after – wash on a cool wash.
Get the PDF Pattern!
You can find the ad-free pdf in all of my shops:
The pattern specifics:
Materials:
#3 weight yarn of choice – I used 1 Lionbrand Mandala cake in wood nymph (590 yards)
4mm hook
Scissors
Tapestry needle
Blocking mats and pins (optional)
Gauge:
Does not matter as long as tension is consistent. My gauge is 21 sts and 10 rows in 4"
Sizing:
My scarf was 7.5″ wide by 64″ long using 1 skein of lion brand mandala (you can make yours as long as you would like).
Abbreviations used:
Ch(s) – chain(s)
St(s) – stitch(es)
SK – skip
Dc – double crochet
X St – cross stitch (see special stitches)
Rep – repeat
FO – fasten off
YO – Yarn over
Other notes:
· Written in US Terms
· CH3 does count as a stitch
· You may use. #4 weight yarn and 5mm hook for this pattern, but your scarf will be wider.
Special Stitches:
Cross Stitch (X st) : This stitch is worked over 2 sts. *YO, sk 1 st, insert hook into next st, YO and pull up a loop, YO and pull through 2 loops on hook, YO and pull through 2 loops on hook (DC made). YO, working behind the st you just made and into the skipped stitch insert your hook from the front of the st to the back (it may feel a little awkward) and complete a DC in this st. X st is made.
Video tutorial – the cross stitch is at 3 minutes into the video
The Highland Neamh Scarf – Free Crochet Pattern:
** This is a free pattern on the blog. Please do not copy and paste any part of it or print this pattern out. Please bookmark this page and use the website to work up your pattern. This helps my small business greatly as it provides a little bit of ad revenue which will in turn will allow me to continue to create free content for you!**
Row 1: Ch 42, DC into third Ch from hook and each ch across, turn. OR. FDC 40, turn (40)
Row 2: Ch3 (counts), *sk next st, dc in next st, working behind the dc just made dc into the skipped st. Rep from * until you have 1 st remaining. Dc in last st. Turn (19 X sts, 2 dc)
Row 3: Ch4 (counts as a dc, ch1) *sk next st, (dc and ch1) between the two posts of the X St from the previous round. Rep from *across until you have worked a dc, ch1 into the last X st from the previous row. Dc in last st. Turn. (21 Dc, 20 Ch1 spaces)
Row 4: Ch3 (counts), working only into the ch1 spaces, sk the first ch1 space, *dc into the next ch1 space, working behind this st dc into the skipped ch1 space. Rep from * across. Dc in last st. Turn (19 X sts, 2 dc)
Note: You will start the next X st in the very next ch1 sp which will result in the second stitch of the X st sharing the ch1 sp with the previous X st. and will mirror how rows 2 and 3 work together. This will keep your stitch counts correct.
Row 5: Ch3 (counts), Dc in next st and each st across (40)
Rows 6 – 168: Rep rows 2-5 until scarf is as long as desired.
Fo and weave in ends.
Don't forget to share your makes with me!
I love it when you tag me in your makes on social media! Show them off and let me see your beautiful creations.
Wraps, Scarves and Cowls Event – March 2023
On 8th March 2023 you can get this pattern as a FREE PDF download for 24 hours from 8am EST. It will be the featured pattern for the day in this fabulous event hosted by MadameStitch.
There are 2 ways of joining in this event :
Purchasing the fantastic bundle that is available. You can get all of the patterns that are included in this event for one fantastic price. This means that you can start making your favourites now. Just click the buy the bundle button below (there is no obligation to buy if you just want to check out the bundle). That is all 22 pattern for $15! It works out at less than $0.69 per pattern!! Or …
The option for the free download has now expired.
---