My Crochet Journey
By Sara Marsh
My first time picking up the crochet hook was with my mother.  I was probably around 8 years old.  She didn't know a lot of techniques but she knew how to get started.  I remember learning how to make a chain, do single crochet stitches, and half-double crochet stitches.  
Eventually, I wanted to learn more.  Our neighbor at the time in California was originally from Holland.  She was like a second mother to me and taught me all kinds of crafts–sewing, crocheting–all kinds.  I asked for her help on crocheting and she taught me several more techniques.  
I began to grow up and out of crochet as at the time, it was viewed more as an adult thing–an older adult thing.  I wouldn't pick up the crochet hook again until after I was married.  
I started out as I did with my mother–chains and single crochets and the occasional half-double crochet.  It seemed I was never going to finish any large projects that way!  YouTube became my best friend. I watched Mikey from The Crochet Crowd every day.  All his tutorials on each stitch made me want to learn more!  Soon, I was watching tutorials on how to make granny squares, then baby blankets, then afghans.
My talent grew to where I no longer needed the videos and could easily read the patterns myself.  I started making Christmas gifts which became sort of a tradition for me–each year I make everyone something (or several somethings!) for Christmas.  
I look back at my stitch-work from when I first started watching Mikey's videos and noticed just how much my stitching has improved with all that practice!
Crocheting has completely changed a certain aspect of my life–the anxious one.  My anxiety is so severe that I do not work outside the home.  In fact, I do not have a job at all, besides being a stay-at-home mom.  My daughter is 2 years old and a total joy to be with.  
Crocheting helps me unwind that anxiety tension.  I struggle with going out of the house alone (even with my daughter) but if I can take my crochet with me (and believe me, I take it everywhere!), I feel like I have my "security blanket".  
Putting myself out there like this–having a blog, having a store that sells my crochet creations and patterns–it's super scary!  I recently attended a vendor/craft event locally for the first time.  I was very nervous about how I would do.  What would people think about my items?  What will they think about me?  Am I selling too high?  Am I underselling myself?  What should I wear??  Seems normal to ask those questions, right?  It is, but when you have anxiety, you tend to worry more about those things than most people do.  Seeing my items out on display was also sort of putting myself out on display.  I was going to be inspected, judged, nit-picked.  I spent months researching how to set up my booth and table so it looked organized and chic yet clean.  I had "thank you " bags and a Square reader.  I was all set.  What do you think happened?
Only one thing sold.  I didn't make back the fee.  I spent an entire day behind those tables and only just over 100 people showed up to this event.  The one thing I sold was to a friend and fellow vendor.  I felt defeated and that my talent wasn't good enough.  I didn't have what it takes to "make it" in the crochet world.  
I came home with all my product and boxed it up.  How was I going to get myself to be a name in the crochet business?  Blogging is too scary. Etsy and shipping is also super scary.  Facebook doesn't reach enough people that wish to buy.  
I chanced upon Elite Blogging Academy and learned the basics of blogging (for free!) and decided–I'm going to put myself out there!  I added a shop button to my Facebook page and started posting pictures and prices.  Next big step: Etsy.  This scares me so much because I don't understand the shipping process.  I've watched countless videos on YouTube but it still scares the heck out of me.  My husband is incredibly supportive and has promised to help me with it but even so, my anxiety takes over and blows it out of proportion.  
I hope you join me on my journey as I battle through anxiety to build my crochet business.  I love crochet so much, it certainly doesn't feel like a job!
Time to pick up some yarn!
Sara M.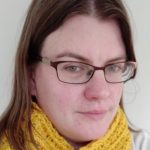 Crochet Journey, By Helen Wilkinson
Hi Guys!
I am truly honoured and excited to have been asked by Sara here at Sunflower Cottage Crochet to be part of the family!
I thought I would use my first blog post to introduce myself to you all.
I am primarily a work from home mum to one 7-year-old daughter. I have been crocheting for about 25 years now.  I started when I was preparing for my GCSEs (I am in the UK) as a means of learning facts, dates etc for my exams because I couldn't 'cheat' and look at the paper if I was watching what my hands were doing! Hey, it worked … I had tried knitting before this, but it really wasn't for me. With knitting it isn't so much what you need to do, it's the nightmare you have when something goes wrong and you have to undo your work – for me this meant starting again from scratch because I couldn't fathom how to go back just a little bit!
About 16 months ago I began testing patterns for designers. I was lucky to find some awesome Facebook groups and have made some fabulous friends, including Sara. It is these friends who have encouraged me to start designing patterns myself and given me the confidence to give it a go.
I won't lie, it's a scary prospect wondering whether your designs are up to scratch or whether they will be well received. That first pattern … oh my days! … creating, scrapping the idea and trying again and again until I was happy with it and it was just a coaster! Having a gorgeous picture in your mind and making it a reality is challenging. I'm learning a lot and I hope that you guys will follow me on my journey and enjoy putting your own twist on my creations.
Helen