Hooking With: Through The Loop Yarn Crafts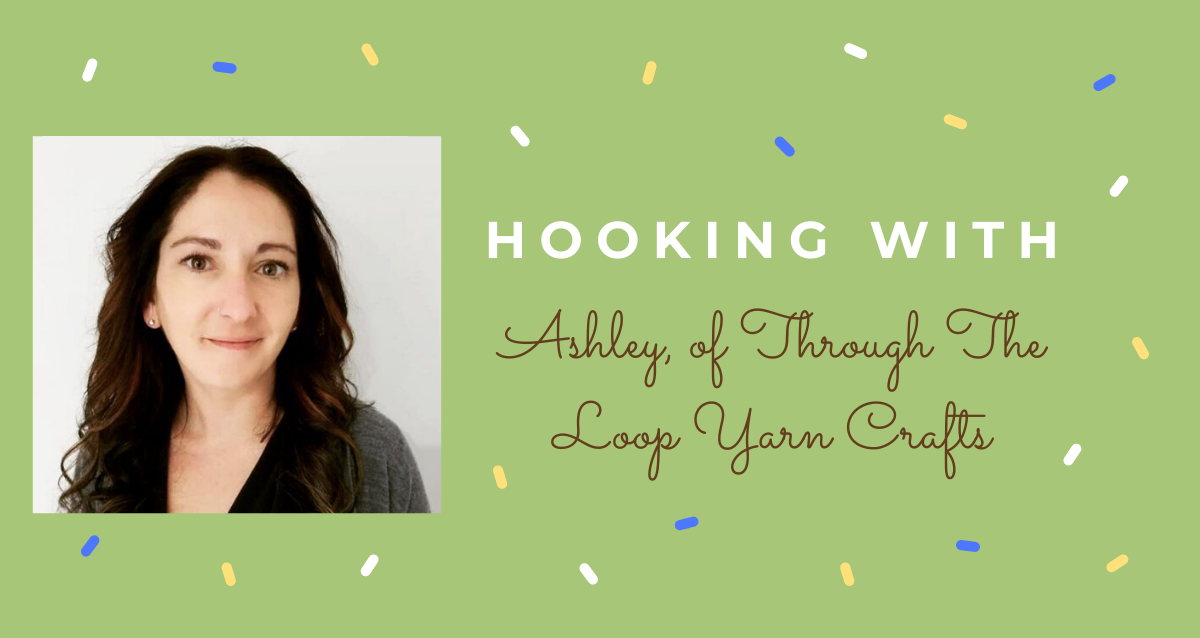 Hooking With Ashley Edmonds of Through The Loop Yarn Crafts
Welcome back to Hooking With!  This week we interviewed Ashley Edmonds of Trough the Loop Yarn Crafts:
Introduction:
Hello! I'm Ashley Edmonds the creator and yarn artist at Through The Loop Yarn Craft. My life in a nutshell can be a bit chaotic at times! I like to focus on quick and modern designs, so busy crocheters can create more with the time they have.  I know for me it's often hard to get more than 20 minutes at a time!
This crazy life I have as a wife and mom of 7, who also happens to have a non-crochet related full-time day job.  This really does get the inspo going for those short-term commitment, long-term gain projects!
I live on gorgeous Vancouver Island where I was born and raised and absolutely love it! I love to get outside and enjoy our beautiful ocean and rain forests with my family. I love movies and books and especially coffee and wine!
I have always been a creative.  I was a ballet dancer for most of my youth.  I started my first 'business' selling beaded jewelry when I was 10, and had a cake decorating business in the early 2000's. Now, though, I feel like I've found my "home" with crochet and crochet designing! I simply have been loving the journey and cannot wait to bring more quick and modern designs moving forward!
When did you start designing?
I started designing just over a year ago in early 2019 and published my first pattern in September 2019.
Do you have a blog?  If so, when did you start that up?
I do! My Blog officially launched October 2019. I have wanted to blog for years and was so excited to finally get one started!
What was your initial plan for your blog and designs?
I wanted to have a place where I can share my designs for free and talk about all sorts of crochet related topics. I love to talk, I love to write, I love to teach, and I love to learn so I thought it was a great place for it all to come together!
How have your designs and designing process evolved?
My designing has definitely been getting refined! I have learned so much over the past months! I have recently started adding stitch tutorials as well, and I'm hoping to add YouTube tutorials soon. (I just have to figure out all the techy stuff!)
What designs do you specialize in?
As I mentioned, I'm 'hoping' that my love, well need, for the quick projects that are still fab shines through. My aim is create designs that can still sell and make great gifts but not take weeks or more to complete.
Do you have a favorite few stitches you like to use?  Or do you always use new ones?
I love, love, love finding and learning new stitches, but a few of my faves are the Feather Stitch, V-Stitch and Half Double Crochet! I love to play with different stitch combinations as well to create amazing texture! I'm big on texture too!
When you come up with an idea, does it come first from yarn you have, or do you find yarn to fit the idea?
Both! It all kind of depends sometimes a yarn will spark an idea or sometimes I hunt for a yarn to be the perfect match for my idea.
When did you start crocheting?
The very first time I picked up a hook and yarn and made my first chain was in 2018! Its just clicked and I was sooo hooked!
What made you decide to become a designer?
I loved the creative freedom. I also loved the idea of being able to share my creations with others. It brought so many of the things that make me me together that after my first design I knew it was just in my veins!
Are there any patterns not your own that you just love?
Soooo many!! It's probably easier to list the fave designers though, because I love pretty much their entire collections! I love Two Brother's Blankets, Bliss This, E'Claire Makery, A Knotty Habit, Leesa's Knotty Corner, Rosy Birch Designs, Made With A Twist…..I could seriously go on and on!!!
Who/what inspired you? Does this still inspire you? Why?
I'd say my original inspiration came from my children, being able to create things for them really got me started. My inspiration does still come from them of course, but I think it's also from some of the amazing and talented maker friends I've made! The encouragement and support they give really is just so inspiring, that flame never goes out!
Of your patterns, which is your favorite, and why?
That's tough! But since I've had an obsession with sock monkeys forever, I'd say the Monkey Around Collection.
Are there any crochet techniques/stitches you wish to learn this year?
I really, really want to have a go at Tunisian Crochet!
What are your biggest crochet challenges?  How do you plan on overcoming that?
My biggest challenge is finding the time to do all the things! I really have to focus and prioritize but really I wish I could do it all – all at the same time and never ever stop!
Have you ever lost your crojo, and how did you overcome that?
I have, and it is the worst. I find getting on Facebook or Instagram and scrolling through all the amazing crochet pics helps get the inspo flowing again and get me out of a slump.
What three tips can you offer to anyone that crochets?
Always, always, always count your stitches!! Even when you don't think you need to DO IT! It might be a pain and feel like you're spending too much time counting but it saves A LOT of time when you don't have to go back and frog 16 rows!
Good hooks make a big difference! Not every hook is for every person, try some different ones until you find your fit. A good hook match can really boost your outcome and your confidence!
Take your time and be patient. You can do it, maybe not in this moment, but keep trying and you'll get there! This can go from learning to crochet to just learning a new stitch or new technique!
Links
Ashley has provided a link for you to try out her patterns:
The Monkey Around Beanie Free Pattern
https://throughtheloopyc.com/monkey-around-beanie/
In Case You Missed It…
Last time, we interviewed Courtney of Creations by Courtney, click here to read this post!
---