Bandana Drool Bib. Trendy and Functional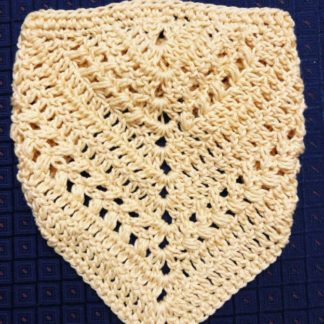 The Paige Bandana Drool Bib is born. Pattern on Ravelry
A trendy bandana drool bib was something I thought would be super cute.
When Paige was a baby, I remember wishing there was a cool bib I could buy that was trendy and functional at the same time. No matter where I looked, all I could find were those bibs with the plastic-y backs and very square. I eventually gave up and Paige never drooled that much anyway, she's a girly-girl, after all!
Once I started coming up with my collection idea, I knew I needed a drool bib for those mommies that were in the same boat I was in.
I looked everywhere…
for a pattern and just could not find one with the texture and shape I wanted. I brainstormed for a few days and got some ideas from a good friend. At first, I worked it from the bottom up, creating a very triangular shape, but it was just too big.
It was my good friend Helen, who mentioned working it from the top down, like a shawl. So I crocheted and frogged so many different attempts and finally, Paige's Bandana Drool Bib was born!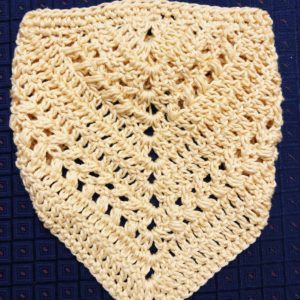 The Bandana Drool Bib pattern features photo tutorials
and a link to a video explaining how to do the criss cross stitch, which I often refer to X stitch or cross stitch. You will need 100% cotton yarn for this project which serves three purposes:
Safe for baby's skin
Easy care–machine wash and dry!
Great absorbency.
I am close to finishing up my Paige collection
and will soon open up that Etsy store (Update: I'm updating this in 2020 and that Etsy Store is now open!). Boy does that scare the dickens out of me. If you wish to purchase this pattern, you may do so at my Ravelry store here. Pin it for later here.
You Might Also Like…
Paige's Bandana Scarfie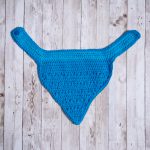 Paige Collection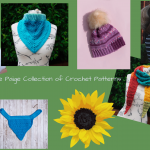 Did you know we have a YouTube channel?
Click here to head there now and see all the great tutorials and patterns we have available!  While you're there, subscribe to the channel and hit the little bell icon to be notified each time we upload a new video or go live!  Like, share, and comment on our videos—this helps us to grow which is the best support we could ask for, at no cost to you!
Thank you to all that have subscribed, and we can't wait to see you in the next one!
---