Writing A Crochet Pattern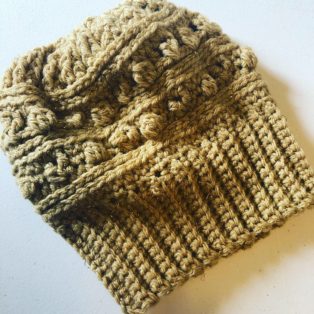 My First Pattern and Blog post!
Writing my very first crochet pattern.  This is something I didn't think I could do!  I have wanted to be one of those crocheters that can create their own design for some time now and I finally did it!  
It took me about a day to figure out how I needed it to look.  I like a textured look for hats and I like a nice brim.  I feel like the hat just doesn't end well when we start from the top and work our way down. Writing a crochet pattern for the first time was a big undertaking.
The process to making this
was actually made a lot easier by following a certain week-long challenge I had located on Facebook with the Crochetpreneur.  I am grateful for her printables and responses to everyone on her page.  She really helped me step outside my little comfort zone and get to it!
I knew the first thing I had to do was figure out which stitches I wanted to use that had the texture I was hoping for. I had found three. Camel, bobble, and a modified X stitch. I played around with the rows over and over and over! I was starting to feel like it wasn't going to happen and then suddenly–it did.
I think a lot of people get very discouraged
when creating a pattern of their own.  For me, it was simply that I just didn't know where to start!  Pam's Get it Done series really put some focus on the entire process.  You can do it at your own pace and Pam is very good about responding to questions and concerns.  It seems like I'm advertising her here, but that's not the case.  I am just that excited about her process.  
However, I don't really like Canva all that much.  I feel like it kind of limits how I can set up my pages (ironically).  I mean, it's supposed to be a place where you can do so many customizations but I still felt limited.  Go figure.  I think I will stick to WordPerfect and PowerPoint for now.  
Writing a Crochet Pattern–In the works
A matching convertible mod scarf that I am using Lion Brand's Mandala yarn for is next in line.  I love how it's coming out!  This is taking longer to create as it is a larger item and the stitch count changes every so many rows until it's wide enough, then will start decreasing.  Ugh, math!  
I hope to meet many new friends here on my blog and create lots of unique designs and projects. Thanks for stopping by! Check out my Facebook page for more information about my shop and what I can do!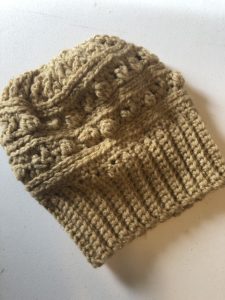 Hook on, my wayward daughters!
---