Preemie Crochet Challenge

Welcome to the first annual Preemie Crochet Challenge!
This is something that both Sara and I feel passionately about. We have both had preemie babies. I know that all babies are unique, gorgeous and bring challenges and adjustments to every family. However,  each preemie baby is unique in the challenges that they bring, the care that they need and the adjustments that have to be made by their parents beyond the 'norm'. Not all parents get to bring their precious bundle home.
For first time parents having a baby is SCARY! Add the complications of potential or real health issues, medications, tests, questions and concerns from family members who are just as worried. It all adds to the stress and uncertainty.
You can read about why this challenge means so much to us here
Please note that by taking the free pdf pattern you are pledging to donate at least one item made from that pattern to a suitable charity / unit / family.
We will be totting up the 'pledges' and letting you know how many pledges there have been at intervals during the event.
How it works
Each day in August there will be a different designer offering you a FREE PDF pattern with the code Preemie2020.
1.     Check out this round-up post and have a look at the pattern the day and other patterns that may still be available.
2.    Click on any pattern photo that you would like to download – this will bring you to the designer's blog post (or direct to Ravelry if they do not have a blog).

3.     Find the DOWNLOAD FREE PDF PATTERN button on the designer's blog post – this will then link take you to Ravelry. The button will look like this:



4.     Add the pattern to your Ravelry cart and enter the coupon code 'Preemie2020' before checking out.

 Return here and repeat steps 2-4 for as many patterns as you like that are still available!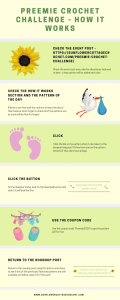 I will categories the patterns and move them appropriately to make it easier for you to establish what patterns are available – currently has a free pdf with the code, free on the blog but code has expired, paid pattern only now.
Dont forget you can join our Community FaceBook group and share your makes from this challenge with us!
Make sure you get your daily notifications!
You can get daily notifications for the featured patterns in this event in several ways.
Sign up to our newsletter by scrolling down to the bottom of the page and adding your email address if you missed the pop up box!
Like and follow our Facebook Page
Join our Facebook Community
Follow us on Instagram
.
Today's Pattern:
10th-17th  August – Sweet Dreams Baby Blanket by Jo's Crafty Hook
Joey has used the crunch stitch to create this sweet baby blanket. Blankets are a definite staple in any donation box (along with hats) and as crafters we love to make them. They are fairly quick to make, we can use our stash as they don't take 12 skeins, and it feels good to think about the baby that will snuggle into or under it! If you have never tried the crunch stitch before we have video tutorials for it on our YouTube Channel! Baby blankets are also a great way to learn a new stitch! Grab this one here.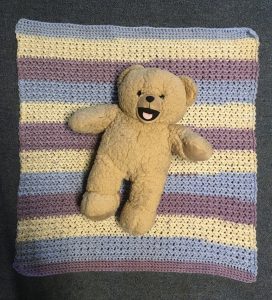 Still Currently available:
9th August – forever – Crochet Basketweave Bonding Square by Raffamusa Designs
These bonding squares are another great pattern designed especially for the Preemie Crochet Challenge! Raffaella has decided that this pattern will always be free and so there is no need to use the code for this one! We have talked about bonding squares before and their importance in the bonding process when mum is unable to hold her baby. Babies bond by smell and so these little squares cannot be underestimated! Dont forget to make them in pairs 🙂 They are also a great way to try a new stitch and bust your stash. You can find this pattern here.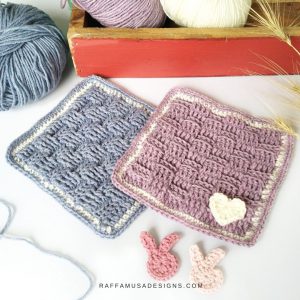 7th-31st August – The Houndstooth Baby Cocoon by Sunflower Cottage Crochet
Baby cocoons are a lovely alternative to a blanket. Sara designed this one especially for this Challenge. She loved designing it so much that she also did another 5 baby cocoon patterns which will be coming your way soon! This cocoon has been written for preemie with instructions on how to it bigger for newborns. You will need about 400 yards of #4 weight yarn in 2 colors and a 5mm hook for this one. Find the pattern here.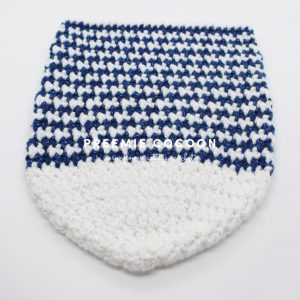 6th – 13th August – Crochet Bonding Squares by Ned and Mimi
If you can do a sc and a dc then you will be able to work up these crochet bonding squares in no time! As mentioned below, bonding squares are really important in the bonding process between mum and baby when they cannot have a cuddle and get to know each other. Babies bond by smell and these squares allow them to do that! Just remember to make these in pairs – one for baby with mum's scent on and one for mum to wear close to her so that her scent rubs off onto it! Check out this pattern here.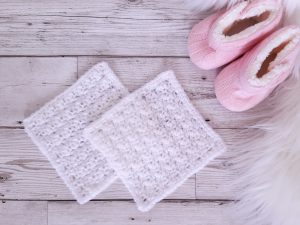 Free on the blog but pdf no longer free
Octopus pattern by Knitting with Chopsticks
Our challenge was kicked off by Knitting with Chopsticks! Hortense has donated her octopus pattern. She actually created it for her local NICU. As Hortense notes in her post "The purpose of the crocheted octopuses is to promote comfort and development for the pre-term babies while in the hospital. The tentacles of the soft octos mimic the feel of the umbilical cord in their tiny hands and have been found to soothe the babies and help prevent them from pulling on wires and tubes."
Hortense does not have the button on her post but if you click the Ravelry link just under her video in the post it will take you where you need to go 🙂 You can check out the pattern and get the link here.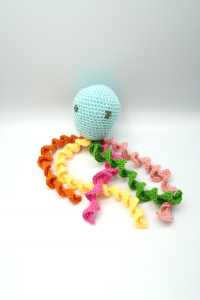 Simple Shells Baby Blanket by Krissy's Over the Mountain Crochet
The simple shells baby blanket is such a sweet and textured blanket for any baby. It uses only one ball of bernat baby sport or equivalent (approx 860 yards) and a 5mm hook. Kris has tutorials on the shell stitch for you if you have not yet tried it and includes instructions for this very pretty border! You can find the pattern info and links for the pdf here.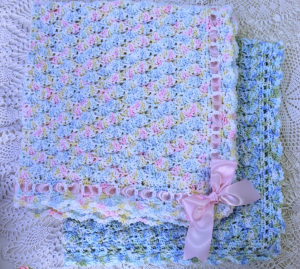 Bonding Square By Ambassador Crochet
Bonding squares are made in pairs so please make even number of these. The great thing is that they are usually between 5″" and 7″" square so don't take a lot of time or yarn! Have you heard of bonding squares before? As mentioned they are made in pairs and used when mum cannot hold or be with her baby for whatever reason. Mum wears one of them against her skin for a few hours so that her scent is transferred to the square. The square is then given to baby and mum gets the other square to repeat the process. Baby learns their mum's scent. This is so important to both mum and baby while cuddles are a no-no or very limited. Mum knows she is still doing something important for her baby at a time when all too often she may feel useless and frustrated .  It also helps the bonding process for both baby and mum when they can cuddle each other!  Babies have poor eyesight but their sense of smell is just fine! You can find Ambassador Crochet's beautiful pattern here.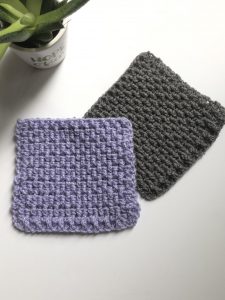 Little Loves Preemie Hat by Through the Loop Yarn Craft
Do you have 15-30 yards of #4 weight yarn in your stash that you were not sure what to do with but didn't want to throw it out? Well these super cute hats are perfect!! Whip them up in no time. Ashley has provided options with and without the ear flaps in her pattern so you can make either version. When I think of preemie patterns I never think of a hat with ear flaps but they actually make a lot of sense! After all, after the top of the head the ears are the next important thing to keep warm. You can find the pattern here.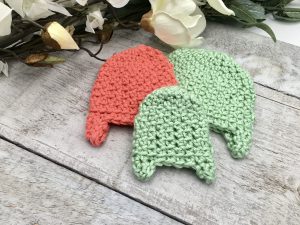 Paid pattern only
Samma's blanket by Made by Gootie
Isn't this blanket just gorgeous?? To be honest I have been eying this one up for a while but had no babies to make it for! The challenge is giving me the perfect excuse. I love the texture, the pattern and the colours that Agat used in this one. If you would like your free pdf copy then you can get it here.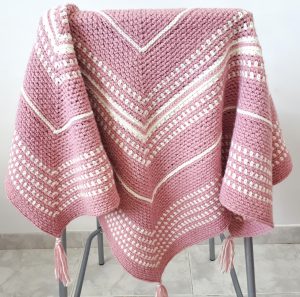 Preemie Beanie by DutchCrochetbyMDK
Marjolein has created such a sweet little beanie for this challenge! She is a new designer with a background in midwifery and so has seen her share of premature babies! This pattern will have a free pdf download with the code until 9th August. You can find out more about her and get the link to her pattern here.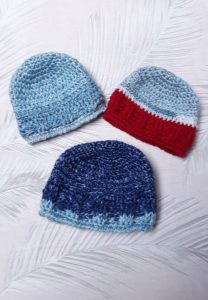 ---
---