Pomander Men's Scarf (unisex)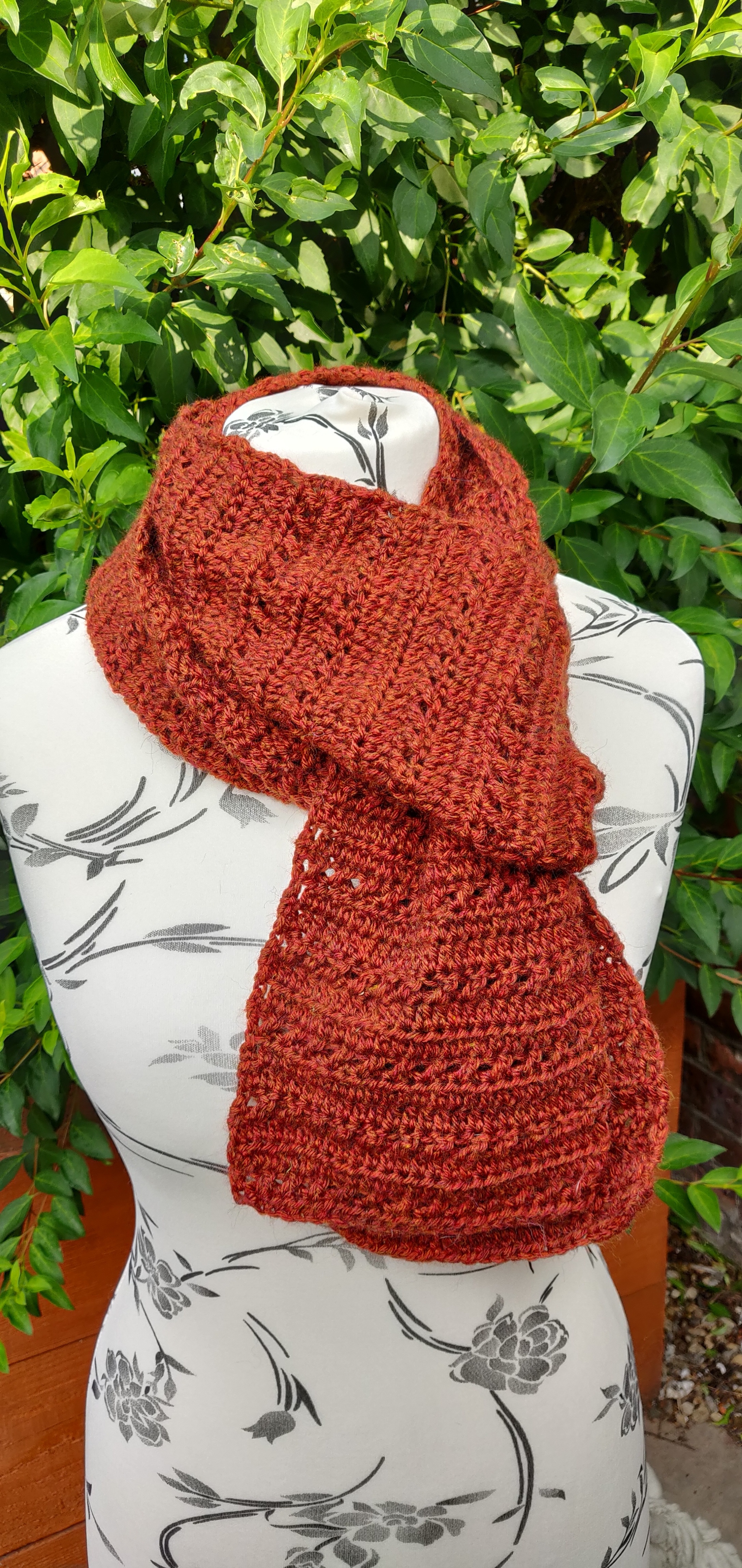 The Pomander Men's scarf (unisex) crochet pattern
Featured  in the Crochet for a Cause event hosted by EdithBlayn.com from July 6th – 12th 2020!
The Pomander Men's scarf (unisex) crochet pattern is a seasonal essential. The cooler autumn weather is just around the corner and we are saying goodbye to the summer in the northern hemisphere. For crocheters that means it is definitely time to start thinking about our project lists and getting them in order. Most of us want to keep ourselves and our loved ones warm once the weather changes.
Then there is that C word as we start to think seriously about what gifts we are planning on making whom for Christmas! Some are prepared and start thinking about this sort of thing in January.  To be honest, until this year I was one of those people! I was super organised, had my patterns and gifts thought out. I even had lists of the yarn I needed to get for each project.
Trying to plan ahead…
This year has been a whirlwind. Joining the Sunflower Cottage Crochet team, coupled with the fact that someone has forgotten to take their finger off the fast forward button when it comes to family life! My daughter turned eight this summer and we have had to start thinking about middle school applications. She gets sassier every single day (I really was not like that so she must be getting that from her Dad's side of the family!) and I'm simply not ready for her to grow up. In my head I could accept her being 4 …. Maybe …. But 8??!!!
Anyway, last year I decided to all of the men in my family hat and scarf sets. So my search for a pattern began. I wanted a little bit of texture but not so much that it looked more feminine than masculine. I searched and searched for what I wanted. Without success. In the end I made them all those fairly plain ones where you do hdc BLO until you are soooo bored that you have to make yourself do them. I think I had about 6 sets to make so you can understand why I felt like this! Don't get me wrong, they look great and are super warm. In fact my husband complained last year (whilst at the ice rink with my daughter in the middle of winter) that he was too warm in his set and took it off!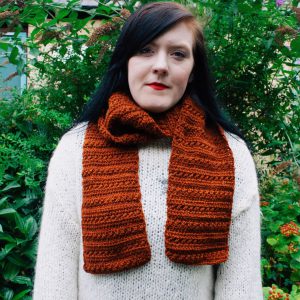 And then it came to me ….
This year, I refuse to feel like that about crocheting again. So the Pomander scarf was borne. Actually, I think its more of a unisex scarf but I wanted to make something for the men in my life.
The pattern itself is a three row repeat. I used a 5mm hook and 420 yards of #4 worsted weight yarn to make mine 62'' long and 6.5'' wide. (It seems that everyone in my family except myself and my nana are tall!). The stitches used are pretty basic with X stitch and extended hdc (there is an explanation of how to do them on the pattern).
I think you can safely say that this scarf is definitely 'mission accomplished'. There is a little bit of texture which isn't too much for the manly man, it warm and cosy and looks great on anybody. Icing on the cake – it doesn't bore me rigid making loads of these!
Pattern links
Grab your copy of this Pomander Men's scarf (unisex) crochet pattern in our shop. and Ravelry.
We hope that you like this pattern as much as we do and don't forget to share your makes with us on our FaceBook, Ravelry, and Instagram pages if you have them. We love seeing your take on our patterns!
You Might Also Like…
Highland Scarf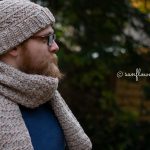 X's Asymmetrical Scarf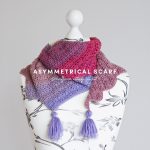 Paige Convertible Mod Scarf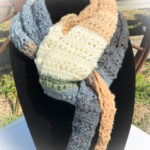 ---