Bandana Cowl Crochet Pattern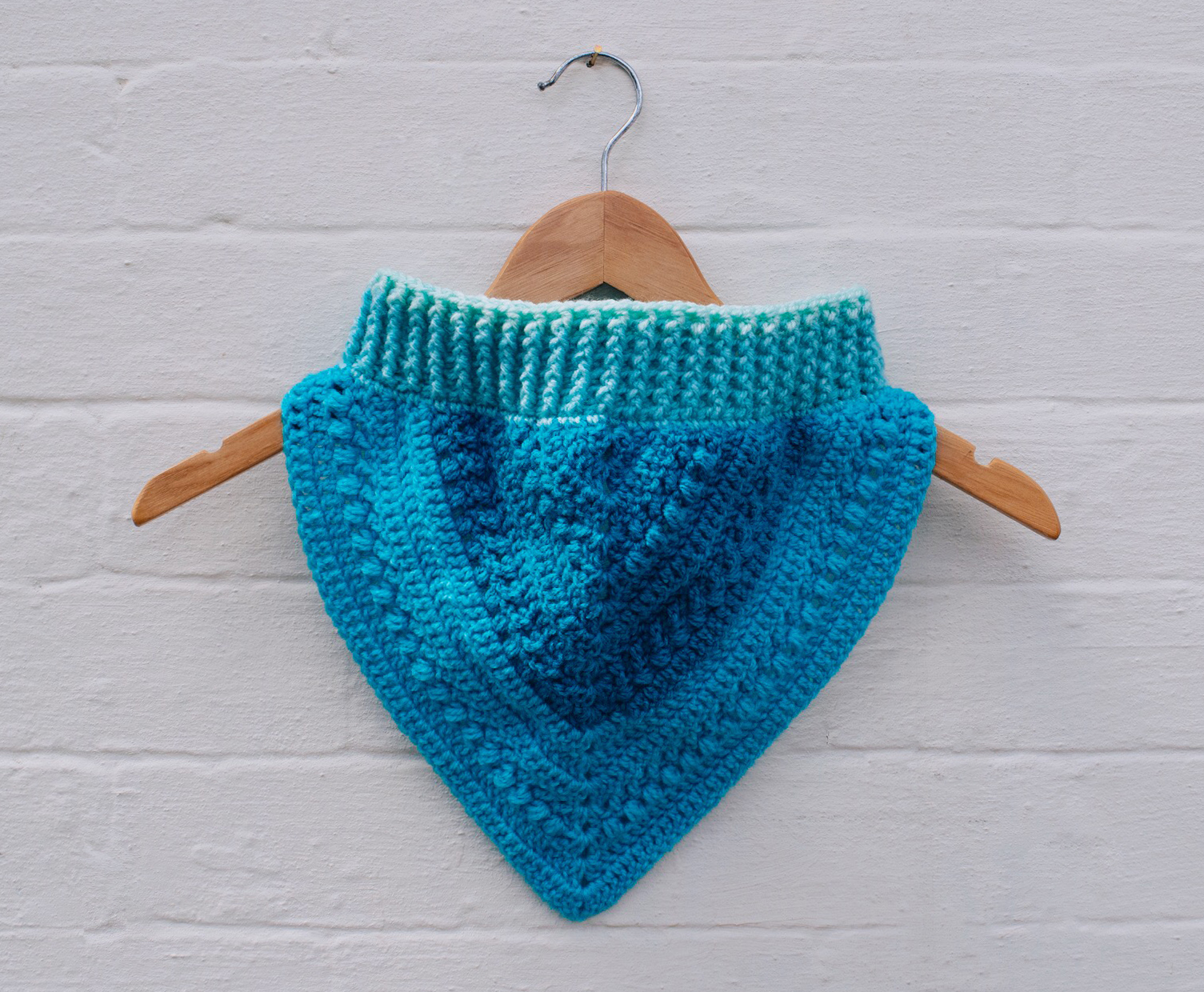 Crochet pattern for a bandana cowl
Introducing our latest design, the Paige Bandana Cowl—a crochet pattern and tutorial.
I actually received a request on Ravelry to make the Bandana Drool Bib into a cowl for adults because the person that contacted me really wanted to wear it, herself! 
Helen and I brainstormed and she came up with a way to add a cuff to the triangle shawl pattern we have and that therefore turned into a cowl!
Are you ready to learn how to make this amazing cowl?
Oh, as a reminder, this post may contain affiliate links.
8 DC rows and 18 DCs = 6"x 6" Square
Finished piece measures approx. 10.5" along top of cowl and 11.5" down the center from the top to the tip.  This measurement is for 18 rows of bandana and 8 rows of cuff.
Chain 2 at the beginning does count as a dc.  
When working the texture rows, be sure to skip a stitch after each bean stitch worked because to finish off the bean stitch, you must chain 1 which creates an extra stitch, so in order to keep the balance, skip a stitch under the chain 1 and work your cross stitch in the next 2 stitches (this will make more sense when you get to the texture rows and see it).
Ch—Chain
St(s)—Stitch(es)
Dc—Double crochet
XS—Cross Stitch
BS—Bean Stitch
Sp(s)—Space(s)
Rep—Repeat
*to*–Repeat the instructions written between the two *
Tc—Turning chain
HDC—Half-double crochet
YO—yarn over
FSC—Foundation single crochet
FPDC—front post double crochet
BPDC—back post double crochet
Bean Stitch—*Yo, insert hook into indicated st, yo, pull up a loop*, rep *to*, yo, pull thru all 7 loops on hook, ch1.
Cross Stitch—Skip next stitch, work a DC in next, work another DC in the skipped stitch going behind the DC just made.  Video here.
FSC—Video here.
FPDC—Video here.
BPDC—Video here.
Row 1: Ch 3 (counts as DC), 2dc in 3rd ch from hook, ch2, 3dc in same ch.  Ch2, turn. (6dc) 
Row 2:  DC in same as turning ch, dc in the next st and in each until you reach the ch2 spot, [2dc, ch2, 2dc] in the ch2 sp, dc until last st, 2dc in turning ch.  Ch2, turn. (12dc) 
Row 3: DC in same as ch 2, dc along until ch 2 sp, [2dc, ch 2, 2dc] in ch 2 sp, dc along until last st, 2dc in turning ch.  Ch 2, turn. (18dc)
Row 4: (texture row)—DC in same as ch2, work 4 XS down the side, [2dc, ch2, 2dc] in ch2 sp, work another 4 XS along the side until last st, 2dc in turning ch.  Ch2, turn. (8 XS, 8dc) 
Row 5: (texture row)—Dc in same as ch2, *sk1, BS in next*, rep *to* until ch2 sp, [2dc, ch2, 2dc] in ch sp, rep *to* to end, 2dc in turning ch.  Ch2, turn. (10 BS, 8dc) 
Row 6: DC in same as ch2, dc in each stitch making sure to dc in the "eye" of each BS and the st following, [2dc, ch2, 2dc] in ch2 sp, dc in each st to end, 2dc in turning ch. (34 dcs) 
Rows 7-8: Repeat row 3. (40, 46 dc) 
Row 9: Repeat row 4.  (22 XS, 8dc) 
Row 10: Repeat row 5. (24 BS, 8dc) 
Row 11: Repeat row 6. (62dc) Do not fasten off.
**Work the repeat pattern (rows 3-8) until piece measures as big as you require** 
Cuff:
Rnd 1: FSC 36.  Join to the other side of the triangle with a ss.
Rnd 2: Sc56 evenly across the top of the shawl section and along the FSC section (92 in total), ss to start. 
Rnds 3-8: Ch2, *FPDC around first st from previous row, BPDC around next st from previous row*, rep *to* around.  FO, weave in ends
You can customize this pattern to suit your style. Maybe you would like it longer or shorter—you can easily do that with the way it's written!
We're posting lots of new pattern updates just about daily, so be sure to keep coming back to get the latest tutorial on our patterns!  If you would like an ad-free version of this pattern, head to our Ravelry and LoveCrafts stores!
©This pattern and its images are copyright protected and the sole property of Sara Marsh and Helen Wilkinson of Sunflower Cottage Crochet.  Please do not redistribute, transfer, or sell the pattern, or alter it to claim as your own. You may sell any products you create from this pattern. Please credit us by linking online listings Facebook, Website, and tag us on Instagram–@sunflower.cottage.crochet.
---
---