Wenona Preemie Beanie | Preemie Crochet Challenge
I hope you were excited about the Wenona Cocoon because I have the matching Wenona Preemie Beanie for it!  Did you think I would design this one without a matching beanie?  Ok, yeah, I did design a few others without beanies but not this one!
I felt like the texture was too cute to pass up for a beanie.  I can just imagine this adorable little beanie on a super adorable little baby, all tucked into their matching cocoon.  It's enough to squeal with glee.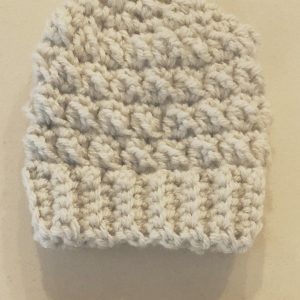 Materials
You will need #4 weight yarn of your choice in scrap amounts if you're making the preemie size.  If you're going bigger, you might need around 100 yards or a little more.  I used I Love This Yarn from Hobby Lobby however, an alternative to this yarn that I think is just as amazing is Knit Picks Brava Worsted from WeCrochet.
5mm H8 hook
Stitch markers (helpful for locating that first stitch of the round)
Sizing
So the pattern is written for a preemie size however, I also include in both the cocoon pattern and the hat pattern how to increase the size to make it larger, up to about 6 months old.  It's all going to depend on your tension and yarn/hook size.
If you're savvy with working beanies–such as knowing how to increase each round–then you could literally make this as large as you want, so long as you have an even number.  The N stitch that I use for this and the cocoon requires that lovely even number to work out correctly.
I strongly recommend grabbing the Wenona Preemie Cocoon to go with the Wenona Preemie Beanie.  Both patterns will have you successfully making things in the round.
Preemie Crochet Challenge
As part of of the challenge, this pattern was available as a free pdf download. The post is still there with all of the links that you may need should you want to check out the patterns that are still available free on the designer's blog.

Where To Get The PDF Pattern
You can purchase an inexpensive ad-free pdf pattern in any of our shops!
Gauge        
15 dc and 9 rows = 4×4" square
Sizing
Can be made to fit preemie, 0-3 months, and 3-6 months
Abbreviations
Ch(s)–chain(s)
St(s)–stitch(es)
rep–repeat
Hdc—Half-double crochet
FSC—foundation single crochet
Ss—slip stitch
SC—single crochet
NST—N stitch
Pattern Notes
Written in US terms
Ch3 count as DC stitches.
Read the instructions for how to do the special stitches!
Ch2 does not count as a stitch
Special Stitches
Magic Ring
This is the alternative to the ch4 ring method.  As it is difficult to put into words, we have a video below.
N Stitch
Skip next stitch, hdc in next, insert hook into skipped stitch, yo and pull up a loop, yo, pull thru 1 loop, yo, insert hook back into the next st (where you did the hdc), yo, pull up a loop, yo, pull thru all loops on the hook.
See the videos below if you prefer a video tutorial.
The Pattern
 To create the band
Row 1—          Ch6 and sc in 2nd ch from hook and in each across
Or
Complete 5 FSC
Rows 2-30—   Ch1, turn, sc blo in each st across (5)
Assembly—    Place the two ends together and SS to join them—this creates your band.  We will now be working in the round.
To work the rest of the Wenona Preemie Beanie
Rnd 1—        Ch1, Sc 30 sts evenly around (should be 1 for each row that you created for the band).  SS to top of ch1 to join. (30)
Rnd 2—           Ch1, hdc in same as join, Nst around, hdc in final st.  SS to top of ch1 to join. (30)
Rnds 3-8—     Repeat rounds 1 & 2.
Rnd 9—        Ch1, sc in same as join, *sc2tog over next 2 sts, sc in next st; rep from * to end.
Rnd 10—       Ch1, sc2tog around.  FO leaving a long tail for pulling the top closed by weaving the tail in and out of the sts around.  Weave in ends.
NOTE: To increase the size of this beanie, simply work more single crochet rows for the band, keeping it an even number of rows, as the N stitch requires an even number.
When you join the brim together, single crochet the exact number of rows you did—example: if I made 60 rows of brim, joined the brim, I would then need to do 60 single crochets around.  Just put 1sc in each row around and join.  From there, you can follow the pattern as it is written, keeping in mind you now have more stitches to do.
To increase size based on age (in months) of baby:
Step 1: Crochet the band and measure it, using the table below for how long the band needs to be.  Ex.: If I am going for a newborn size, I need to crochet the band (in even numbers of rows) to 14".
Step 2: follow pattern for height of pattern, excluding about 2-3 inches for closing the top up with decrease rounds.  Include the band in your height measurement.  See the table below.
| | | |
| --- | --- | --- |
| Age | Head Circumference | Hat Height |
| Preemie (4-5 lbs) | 12″ | 4.5″ |
| Preemie (5.5-6 lbs) | 13″ | 5″ |
| Newborn | 14″ | 6″ |
| Baby – 3 to 6 months | 17″ | 7″ |
Table courtesy of WeCrochet and Knitpicks.  Link here: https://tutorials.knitpicks.com/hat-size-charts/
You may also like: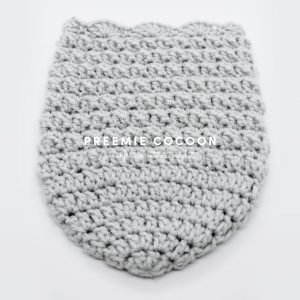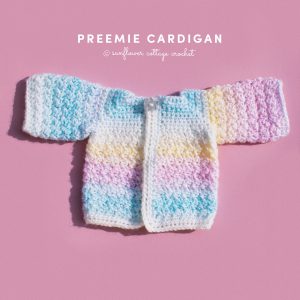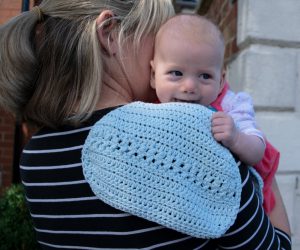 ---