The Friendship Blanket CAL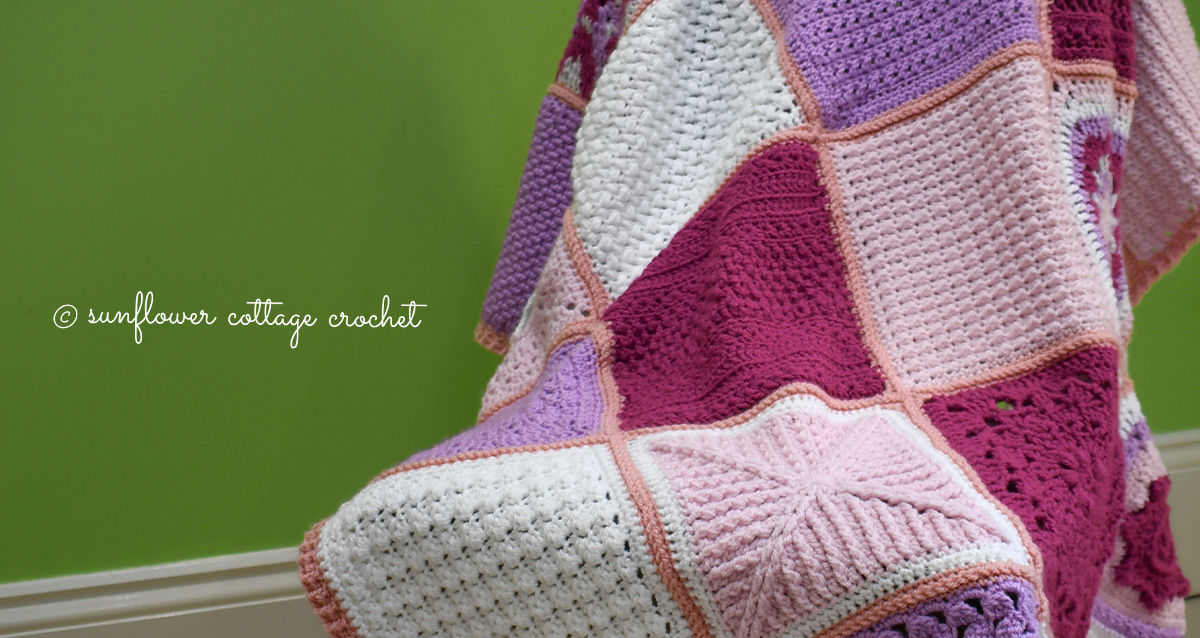 The Friendship Blanket CAL is here! I can hardly believe it. This is something that I have been thinking about for almost a year, and have been working on since September. Yet it seems to have come round so quickly!
Why call it the Friendship Blanket?
Simply because I did not do this by myself! Every week we will release 3 squares for you to make. They will all measure 9″ (once finished and blocked if necessary) and in total there are 40 squares … yes, I did say 40! You only need 35 to make the afghan but we thought it was a good idea to include a few extras for those who may not be confident or want to try certain techniques or stitches.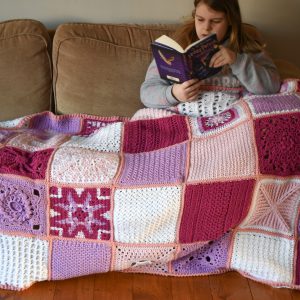 No less than 28 of our designer friends from around the globe offered to help us out and have each contributed at least 1 square to the blanket. Crochet design can be a lonely business (as can any job when you do it from home), so I am truly humbled and honoured that these ladies and gent came together to work with us. It was actually a couple of the designers that came up with the name suggestion, and how perfect is it?
Needless to say this blanket holds a special place in my heart!
How it works:
One new square will be released every Friday, Sunday and Wednesday until mid April
Most squares will be available as a free pdf and, if it is not going to be free usually, you will have a coupon code to get your copy.
I will then share how I joined the squares and the boarder
The most recent square will be the first on in the list below – under this will be all of the squares that have been released in order.
If you cannot wait for the squares to be released and would like to get them all in one go a bundle is available for $10 using the button below. This works out at only $0.25 per square!
Note: you have 28  days from purchase to raise any issues.
Additional help and support
If you would like additional help and support then please join our FB Community group by clicking on the button below and answering the 3 simple joining questions. Throughout this event we will be answering questions, going live to help and chat to you about each square.


Have you joined our mailing list?
If you would like an email each day a square is released so you don't miss any of them you can sign up to our Events and CALs email. This is different from our standard newsletter – which you can sign up to with the pop up box when you access our blog, or add your details in the box in the footer!

Materials List:
Note: this list contains affiliate links at no extra cost to you!
I used:
#4 weight yarn or cotton – I used Paintbox Simply Aran in the following colour ways and amounts (note each skein is 201 yards so I used 3015 approximately before joining):
Hooks – from 4mm to 6mm
Stitch Markers – guaranteed you will need at least 4 of these (regardless of skill level)!
Newest Square Release
21. The Zanmi Square by Desamour Designs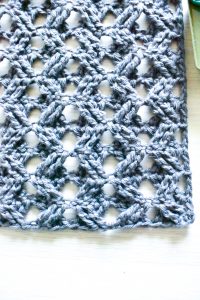 Isn't the texture on this one gorgeous? You will be really surprised how the 2 row repeat on this one creates this gorgeous square. I fell in love with this stitch. You will only use double crochets and treble crochets.
NOTE: if you would like the free pdf for this one you must get it today (3rd March 2021). The pattern will be free on the blog for at least the duration of the CAL but the pdf will only be free and linked at the bottom of the blog post for the one day. After that you will either have to have access to Elisabeth's email list vault or purchase the bundle.

Previously Released Squares:
1. The Friendship Square

The CAL kicks off with our Friendship Square. It is an easy square, perfect to get us started. The pattern includes links to our video tutorials for the stitches you need to use. You will also need approx 100 yds and a 5mm hook. You can find out more information about this square here.
Coupon Code: SQUARES

2. The Pretty Petals Square by AmeliaMakes

This square was actually fun and super quick to make. It is mainly double crochets and has more of a traditional granny square method and look to it. As you can see from my photo I had to add an extra round of hdc when I finished to get it nearer the 9″ before blocking, but it is really easy to add another row onto that if you need to and it will still look great!
Please note: This square is available as a free pattern on Amelia's blog. If you would like the free pdf, Amelia has updated her free pattern for signing up to her emails so an immediate pdf version of this pattern will be delivered directly to your inbox. If you have any issues getting the pdf please contact Amelia directly and she will help you!

3. The Lauren Square by Crafting Each Day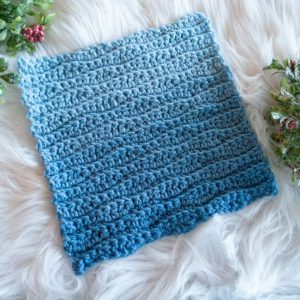 This square was such a great one to make! The texture is gorgeous and you might be surprised to know that it only uses sc, hdc and dc and back loop only. I made my version in pink.
It took me about an hour to create this one. Doesn't it just remind you of the ocean? If you are not making the blanket it would make a great washcloth using cotton. I will say that because fo the stitch multiple for this one if your square is too big you will have to adjust your hook size!
The code you will need for your free pdf of this one is SQUARES.

4. The Rambling Roses Square by Made by Gootie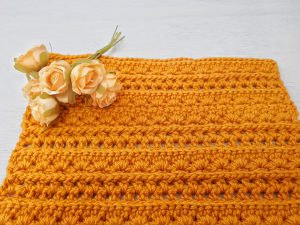 Agat has designed this gorgeous square. The square is a combination of the Primrose stitch and hdc stitches which work together perfectly here.
More fun ideas for this square are making it as a washcloth, a hot pad, table or bed runner (just increase the initial chains according to the multiple mentioned in the notes), etc… I will have a post nearer the end of the CAL with ideas of what else you can use the squares for if you do not want to make a blanket. The button below takes you to the designer's post.
Coupon Code: SQUARES

5. The Illusion Square by L'amas de Laine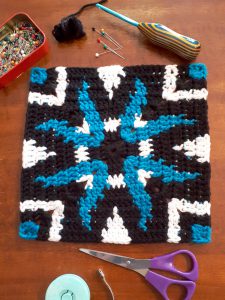 Oh my goodness guys! I just love this one. In fact I am going to make 4 and turn it into a cushion cover because I need to see how the geometrics on this one work out!
This square is done with tapestry crochet. You carry your yarn around with you picking up the right colour at the right time. This square was a fun one to make for me. Being honest, it was a nice size for this technique for me too.
If you haven't tried this type of crochet before give it a go! As soon as you get used to having 3 colours on the go and your tension works itself out it really is a good one and looks so fabulous in the blanket.
BONUS: no code needed – this is a free download on Ravelry from Sandra's blog post!

6. The Diamond Bliss square by Crafting at the Poole: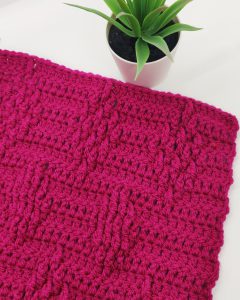 Caleb from Crafting at the Poole has designed this gorgeous Diamond Bliss square especially for our friendship blanket. The texture is created by using front post and back post triple crochet stitches. For those of you who are beginners, if you managed the fpdc and bpdc from square 1 then you absolutely can do this square! And what girl doesn't appreciate a diamond?
Caleb has a video tutorial of this square attached to his post too! So if you have any issues with this square this should help.
To get the free pdf click the button at the bottom of Caleb's post and use the coupon code
COUPON CODE : SHINELIKEADIAMOND

7. The Omatra Square by Three Fates Creations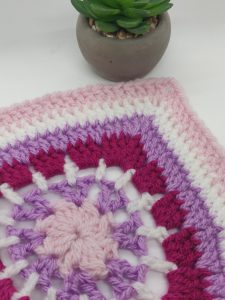 We go back to more of a traditional looking granny square with this one. It is suitable for beginners and looks great either in a solid colour or you can play with your colours and use up some of those smaller scraps you have! This one is a quick make.
COUPON CODE: SQUARES

8. The Raised Diagonals Friendship Square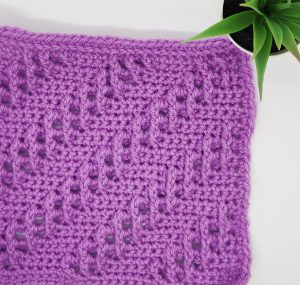 This one has been designed by us. It is suitable for adventurous beginners and we do have a link to the YouTube video tutorial in the pattern which will help you to make this square. Once you get used to looking for that stitch to work around 2 rows below I found this one quite a rhythmical piece to work. Beginners may take a bit longer to get the hang of it but there is no reason why you cannot give this one a go!
COUPON CODE: SQUARES

9. The Ara Blanket Square by Ambassador Crochet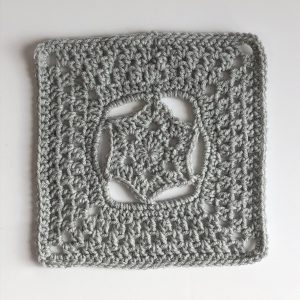 This blanket square is gorgeous! It is worked from the centre out so you work the star and then create the square. Kristine's patterns are always so well written that I always enjoy working them up! (For those who enjoy Tunisian she is also has some gorgeous Tunisian patterns and she taught me and my daughter how to do our first Tunisian project!) Anyway, I digress ….  This pattern would probably be graded for intermediate crocheters but I think adventurous beginners would really enjoy this one too!
COUPON CODE: SQUARES

10. The Diamond Square by Jo's Crafty Hook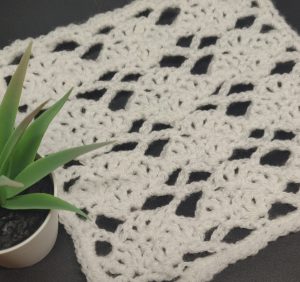 This lacy square is a beautiful one. In fact Joey has a few patterns using this stitch, including a wrap, and pocket shawl amongst them. This pattern is not as tricky as it looks and works up quickly to create this very feminine and gorgeous texture.
COUPON CODE: CALSQUARE

11. The Kindred Square by Through the Loop Yarn Craft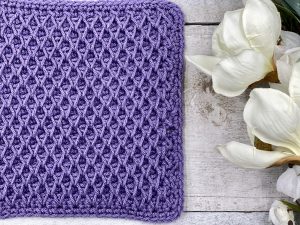 Doesn't this square look like it is Tunisian Crochet? Well, in actual fact it isn't! Ashley came up with a great way to get a Tunisian Crochet look with this one. The pattern has lots of photo's to take you through how to work this one. It also creates such a super warm square that if you made it in cotton it would be a fantastic pot holder!!
Coupon Code : SQUARES

12. The Eclectic Square by Crochets by Trista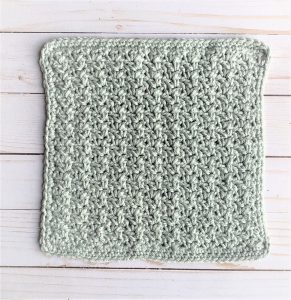 This square by Trista is a lovely warm one that isn't overly complicated. The overall texture is really pretty and suitable for beginners. I enjoyed making this one. It has a nice rhythm to it while you are working it.
Trista does not have a YouTube channel but she has allowed Sara to do a video on her behalf so if you are fairly new to crochet or would like to check out any elements of making this square you can find the link on Trista's post.
Coupon Code: SQUARES

13. The Kinship Square by The Loophole Fox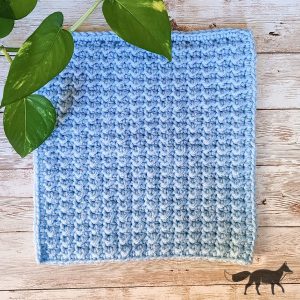 Shannon refers to this stitch as the even moss stitch, but we also know it as the crunch stitch. Whatever you call it this texture is just gorgeous. It is also a great one for beginners as it uses slip stitches (be careful not to make them too tight as you need to work into them!) and half double crochets. It creates a warm square that has a gorgeous texture. I am sure that you will love this stitch as much as both Shannon and I do!
Coupon Code: SQUARES

14. Tapestry Heart Square by Amelia Makes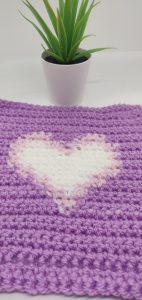 Today's square os the tapestry heart square from Amelia Makes. It is worked very similar to square 5 (the Illusion square by L'amas de Laine) except it is in rows rather than rounds. It looks very pretty and effective when worked up. This one is not a ravelry download but Amelia's post directs you where you need to go if you would like the pdf version.

15. Friendship Blanket Square by Natalis Crochet Designs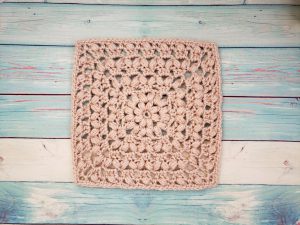 Isn't this square gorgeous?? Natali has done a super job designing this one. I love how it looks both classical and modern at the same time! And it looks fantastic worked up. This one is a pattern for intermediate crocheters and you need to pay attention to the corner clusters which are slightly different from the puff stitches. However, Natali has video tutorials linked her blog post that will take you through this one. Because of the puff stitches, tension is going to be the key to yours looking fabulous! This square was a fun one to make up and has a beautiful elegance about it when finished.
COUPON CODE: SQUARES

16. The Connection Square by Sunflower Cottage Crochet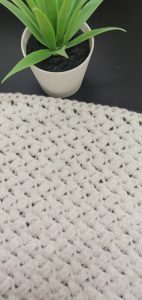 This is the last square in this event from Sunflower! I just LOVE the texture that the bean stitch gives you and once you get into a rhythm with it it is quite an enjoyable stitch to work. An even tension is important for this one or your bean stitches will have loops that will snag and get caught. It uses the bean stitch so is probably more sited to an intermediate crocheter, but if you are an adventurous beginner then I would always say try it! We have links to both right and left handed video tutorials in our blog post and pattern.
Coupon Code: SQUARES

17. The Sweet Stripes Square by Green Fox Farm Designs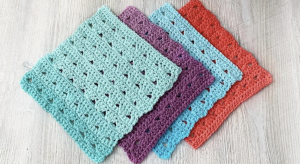 Lisa has designed this gorgeous square. It is great for beginners and looks so pretty when worked up. This one is a quick make and a nice change of pace from some of the more complicated squares so far! (I know that some people have struggled with our raised Diagonals square for instance.)
I made my version in white, but I think Lisa's colour choices are so bright and vibrant! They really highlight the texture beautifully.
Coupon Code: SQUARES

18. The Sol Square by Emma Wilkinson Designs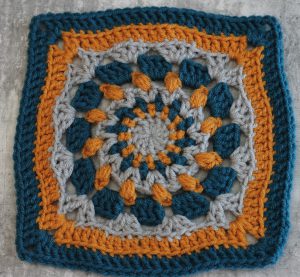 You can see why Emma called this one the Sol square! This was another square that I really enjoyed making – but let's face it they are all enjoyable whether they are quick makes, whether you learn something new, or you are just loving your colour choices! This one has the potential to be an awesome scrap buster. You can see here that Emma changed her colour every row so you can get some of those smaller scraps used in this one! It is a quick make and suitable for confident beginners (you can see there is a back loop only section and a bit of a puff stitch).
If you would like to know more about Emma please check out our latest edition of Hooking With which you can find here.
Coupon Code: Squares

19. The Dolphin Stitch Square by Straight Hooked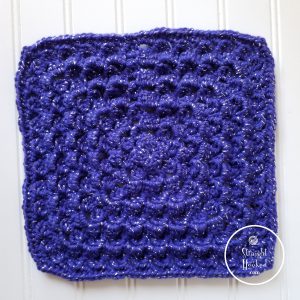 This square has a gorgeous texture and I can pretty much guarantee that you will not have tried this stitch yourself unless you have worked one or two of Malena's other patterns. You see this stitch is entirely her own.  Malena's blog post has a video tutorial in it too – I recommend you watch it for her hints and tips as well as getting the hang of the stitch. Malena is working on getting a more polished version of the video onto her blog asap so if you need it please check back.
I would say this one is definitely in the realms of intermediate crocheter as you need a sound knowledge of the stitches and pattern terminology if you are not using the video,  but adventurous beginners may get the hang of this one with a little patience.
The pdf download is available via the Straight Hooked website rather than Ravelry. Please note you do not have to input your personal details in to get the pattern for free. If you have any issues getting this one please contact Malena/ Straight Hooked directly.
Coupon Code: Squares

20. The Cross Puff Stitch Crochet Square by HanJan Crochet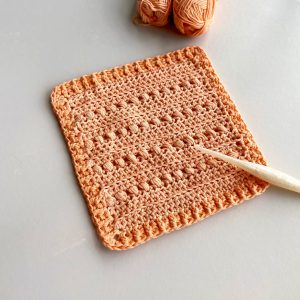 I was thrilled when Hannah from HanJan crochet signed up to participate in the Friendship Blanket CAL! Her designs are amazing! If you have tried any of the previous squares which have puff stitches in them you will be absolutely fine with this one! As with all puff stitches, tension is kept to getting a lovely stitch so as long as you take your time I would encourage anyone to give this one a go. I know that puff stitches are usually classed as intermediate level but you guys are doing so well with the squares so far and I know you got this! The edging is made with front post and back post stitches which we have also come across in a few squares. So we have acquired the skills we need to do this square already! All that is left is to enjoy making it.  I found this one to be a satisfying one to make and Hannah's patterns are always so well written.
Coupon Code : SQUARES

---
---