The Annie Bandana – Quick Easy Dog Bandana
How the Annie Bandana came to be: When Debbie from Madame Stitch was telling me that she wanted to host an event for rescue dogs, I was in before she even finished talking.
Dogs, and rescue dogs, play such a big part in my family's lives. My sisters, Hannah and Kate, foster rescued dogs until they are ready to be re-homed. Their lives have always revolved around dogs. From bring able to crawl they were pretending to be dogs so having doggy-related careers for them were inevitable. Hannah is a doggy behaviouralist and has her own dog walking business. Kate is also a groomer and gives them a good groom before they go to their new forever homes.
A Dog named Annie
I had so many ideas for this event. We rescued Annie in January this year. She is officially our first rescue dog. We have had dogs for the last 14 years, but had them from puppies and then when Jorja came along getting a rescue seemed like too scary of a prospect with a newborn.
But I really shouldn't have worried!
Annie has been just the most loving, cheeky, independent bundle of energy to come into our home. And she is the inspiration for the Annie Bandana.
A little bit about Annie
Annie was initially a stray in Greece. She found herself in kennels in Ireland but really didn't take to it. In fact she found it so stressful that my sister, Hannah, was asked to foster her until she was ready to be re-homed. So Annie came to England to stay with Hannah and her pack.
We lost our elderly, sassy Dalmatian, Holly, in early May last year from DCM at age 12. She had left a big hole in our lives, despite us also having a 3 year old Great Dane. I was seeing Hannah's photos of her pack on Facebook and Annie really made an impression on me.
Hannah has tried several times to get us to foster one of her rescues. I had always previously managed to refrain, but there was something about Annie…. So Hannah brought her across one night when I had offered to make her dinner, and Annie has been here ever since.
But it hasn't been plain sailing!
Getting a rescue dog is very rarely going to be an 'easy' option. But I promise you it is so worthwhile!
Annie is one year old and deaf, and so training her is slightly more complicated than usual. We have the vibrating collar, and we use hand signals. But coming to live with us was a trauma for her too. Was this just another home that she would be moved from in a couple of weeks? Should she get comfortable? Could she trust us?
We also quickly realised that her name suited her down to the ground! 'Noisy Annie' and 'jealous Annie' are phrases used here in the UK quite a bit. Both apply to Annie.
It quickly became evident that her barking and snacking at the air were issues that we needed help with. A local dog behaviouralist came to help us out (Hannah lives too far away from us to be able to help us out with this).
We learned so much …
Lenka helped us to understand Annie and what she was asking of us. When you raise a puppy you know all of their traits, what those eyes are asking for and what they need pretty quickly. With a rescue dog this takes time and patience.
Annie is a double merle border collie. So I suspect that she wasn't born on the streets in Greece, but rather somewhere like a farm and when they realised she was deaf considered her useless. Annie is anything but useless. She is super intelligent and works things out really quickly.
Lenka told us that it could take 8 months for all of the anxiety that Annie had about her previous life and circumstances to work its way out of her little body. Annie is small for her breed, probably due to starvation. She also identified a lot of OCD tendencies in her, so we were advised not to do things like throw balls for her to catch / chase. Walks had to be about smells and experiences not energy and exercise for the moment.
We are almost 5 months into the 8 month adjustment period and Annie is such a delight. She is SUPER energetic, really clever and so loving. But sometimes she still wonders if we will be sending her somewhere else. You can see it in her eyes. She is learning to trust and love us and has absolutely won Hugo over. Annie still will not join in with the dogs on the cricket field on a morning, but she does allow the other dogs to say hello. She will even allow a couple of the humans to stroke her, but only infrequently. Nevertheless we are taking baby steps and breaking down barriers every day. And yes, her incessant barking and snacking at the air has stopped. I can't imagine life without her.
A dog Bandana
I decided to work on a simple dog bandana for this event.
I saw a comment on something Debbie had written on Facebook when she was looking for designers to join in this event. They said that the best things to make are props that can be used in photos to help re-home rescued dogs. If that is what is more beneficial, then that is what I will do!
They say never work with animals or children …
That is so true! When it came time to get photos for the Annie bandana I almost gave up. Three weeks later and still no nice photos that I could use. This dog is fast, and I swear she was laughing at my frustration! So I had to enlist some help from hubby and Hugo.
As you can tell, I can talk about dogs for ages!
PDF Pattern Links
You can get an ad-free pdf version of this pattern in all of my shops. **If you are here for the Pet Appreciation Event on 2nd August 2023 these links WILL NOT get you the Free PDF Pattern. Look for the special event button below!
Let's talk about the Annie bandana….
This design is a simple one which uses front loop only to achieve a little bit of texture. It also has ties for securing it to the dog, which is fine if it being used as a photo prop.
Materials needed for the Annie Bandana:
#3 weight yarn of choice. I used approx 60 yards of some yarn from my scrap bucket to make a size medium
4mm hook
Stitch markers (optional)
Scissors
Gauge:
Not essential for this project, you can work your main section until it is as wide as desired. It is also easy to adjust the straps.
Repeat – 10 DC and 4 rows per 2"
Straps – 10FSC across in 2"
Sizing:
Small – approx. 5" high by 7" wide before straps
Medium – approx. 6.5" high by 11" wide before straps
Large – approx. 8" high by 14" wide before straps
XL – approx. 10.5" high by 18.5" wide before straps
Abbreviations:
Ch – chain
Sk – skip
SC – fingle crochet
FSC – foundation single crochet
DC – double crochet
FLO – front loop only
BLO – back loop only
Ss – slip stitch
FO – fasten off
Pattern notes:
Written in US terms for sizes small (medium, large, XL)
This pattern is not reversible (but both sides look great!)
CH2 counts as a DC throughout
The number of DC worked increases by 6 per row
The Annie Bandana pattern
Row 1 (RS) – CH 3, ss to first CH made to create a loop.
CH 2, DC, CH2, 2DC into the loop you have just made. (4DC, 1 Ch
2 sp)
Row 2 (WS) – CH 2, turn, working into FLO, DC into same st, DC into next st, in CH 2 sp work
[2DC, CH 2, 2DC], DC into next st, 2DC into last
st. (10DC, 1 CH 2 sp)
Row 3 (RS) – CH2, turn, working into BLO, DC into same st, DC into each DC across to the CH 2
sp, [2DC, CH2, 2DC] into ch2 sp, DC into each DC across until you have one st remaining,
2DC in last st. (16DC, 1 CH 2 sp)
Row 4 (WS) – CH2, turn, working into FLO, DC into same st, DC into each DC across to the CH
2 sp, [2DC, CH2, 2DC] into ch2 sp, DC into each DC across until you have one st
remaining, 2DC in last st. (22DC, 1 CH 2 sp)
Row 5 – Repeat rows 3 and 4 another 2(4, 6, 9) times. (Remember you will add 6 stitches per
row)
FO and weave in ends.
To create the strap:
Step 1 – Ch 31 (46, 61, 76), SC in second CH from hook and each CH across.
OR
FSC 30 (45, 60, 75)
Do not FO
Step 2 – Without breaking the yarn, continue to SC evenly across the top of the bandana. This will attach the stap securely onto your bandana.
Step 3 – Once you reach the end of the bandana,
Ch 30 (45, 60, 75), turn, SC in second CH from hook and each CH across until you reach
the last SC you worked on the top of the bandana from the previous row.
OR
using the last SC worked to start your FSC stitches FSC 30 (45, 60, 75)
FO and sew in ends.

Keep in touch …
Of course, I would LOVE it if you tagged me in your Hugo bow tie or Annie bandana makes on FaceBook or Instagram. Another way for you to stay in touch with me is to join my newsletter.

The general newsletter only goes out once (maybe twice on special occasions) a week. The Events and Cals newsletter goes out to let you know about the patterns included in the events that I am a part of or hosting as they become available. For the most part that can mean daily free or heavily discounted pdf pattern notifications etc direct to your inbox.
Don't forget, if you would like to join my active and supportive FaceBook Community group, join my weekly newsletter or subscribe to my YouTube Channel you can do by clicking the buttons below!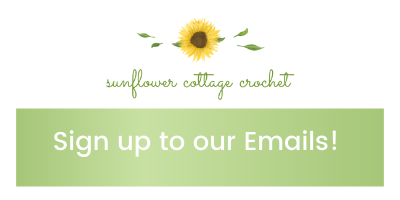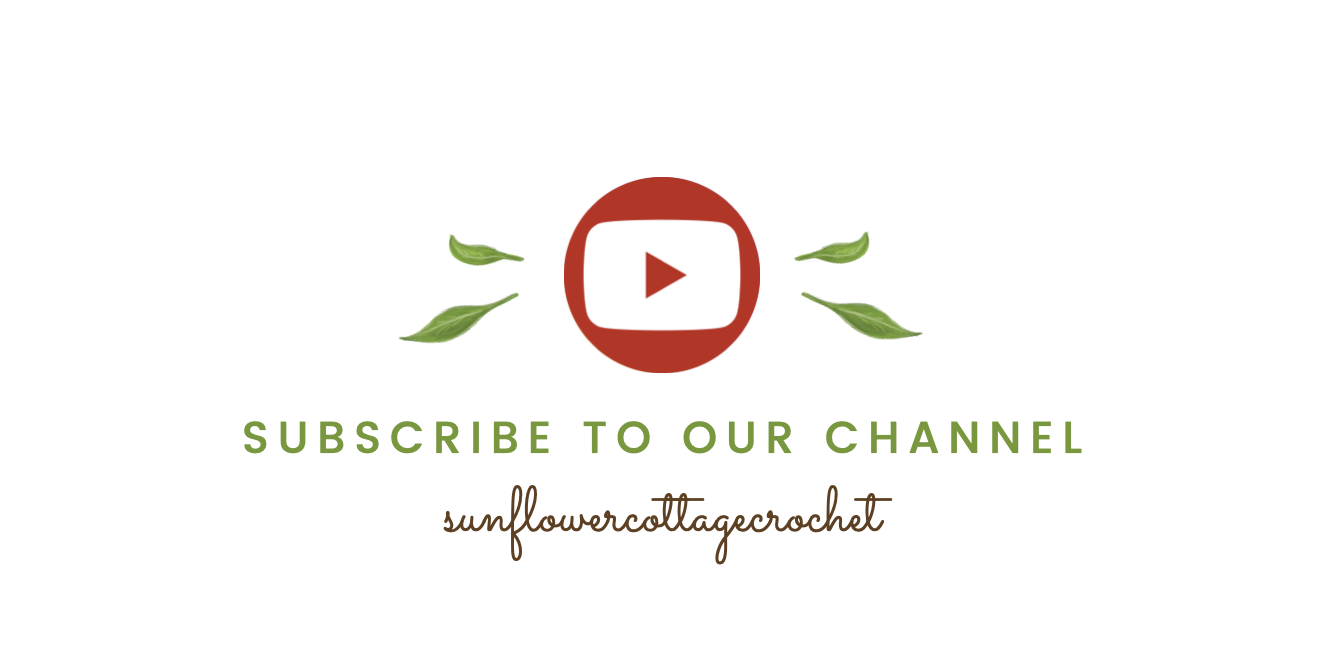 ---