Hooking With Ambassador Crochet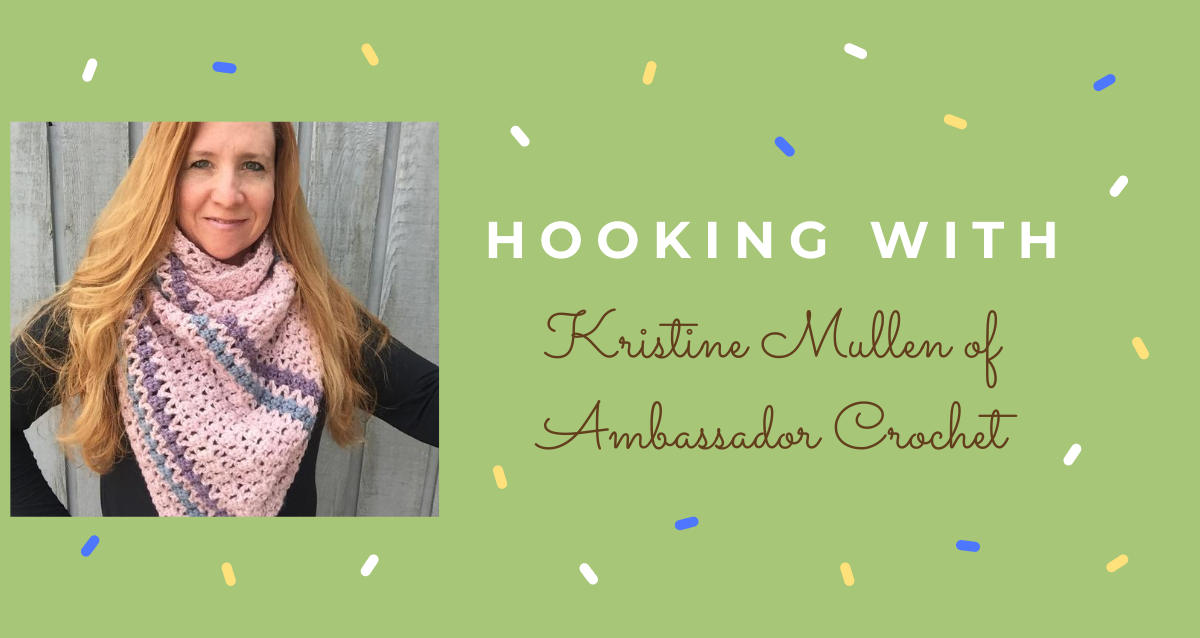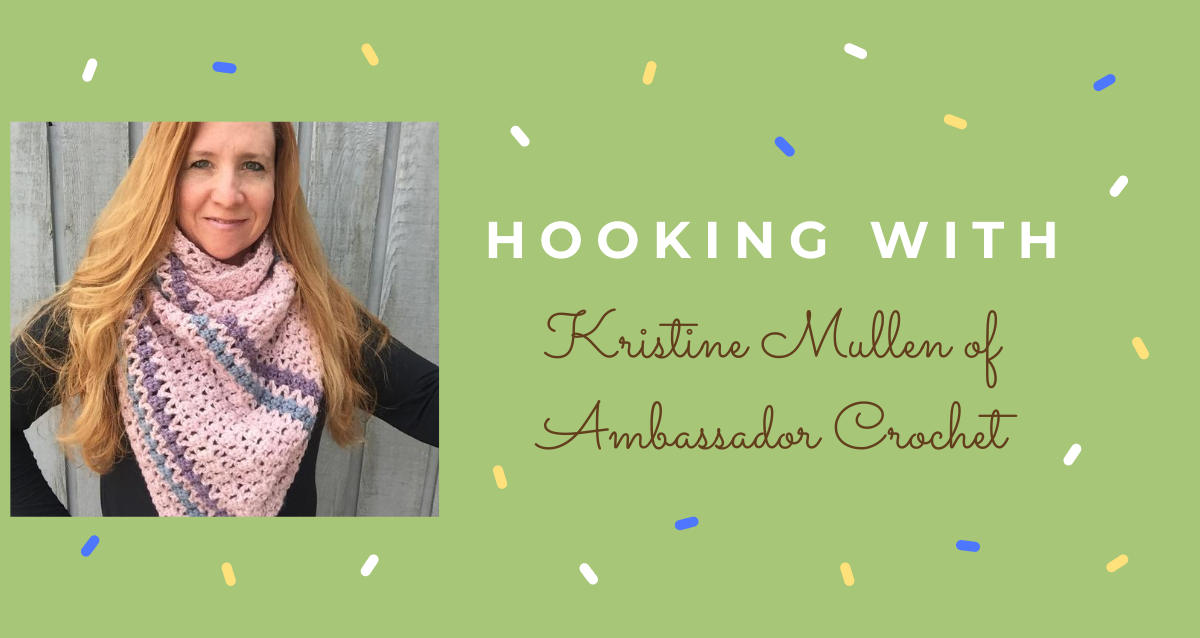 Hooking With: Kristine Mullen of Ambassador Crochet
This week, we interviewed Kristine Mullen of Ambassador Crochet.  Sorry it's a little late…it IS 2020 afterall…
Introduction
Hi! I'm Kristine Mullen, designer and technical editor at Ambassador Crochet. I love designing patterns that are perfect for gift giving – think baby showers, as well as chemo hats & prayer shawls. And I love throwing in the occasional sweater design that any crocheter would love to wear!
I am a homeschooling mom of 6 (1 boy and 5 girls), ranging in age from 27 down to 10 years old. I spend 5 days a week at the dance studio with my daughters, who are competitive tap dancers (as well as many other styles of dance). Life can get a little crazy at times (ok, most of the time), but I love every minute of it!
We live on a little lake in CT (USA) and spend many of our summer days at the water. I never liked summer (I love winter!) but it has grown on me living on the water. I am a newly converted runner and have signed up for my first half marathon! I also love our family movie night, personal development books, and coffee!
Although I never considered myself a crafty person, I do love the art of crochet, the designing process, as well as the technical editing side of the publishing industry. It has made me more rounded as a designer and hopefully it has made me a better pattern writer. I have loved every moment of this journey (even the struggles) and I am always looking forward to where it will take me next!
When did you start designing?
I began designing in 2007 when I wanted to make a preemie blanket for a friend. I couldn't find one that I liked, so I decided to create my own.
Do you have a blog?  If so, when did you start that up?
Yes, I started it back in 2010. Its https://ambassadorcrochet.com
What was your initial plan with your blog and designs?
My designs were originally just to make things for my girls and for friends who were pregnant and having babies. I never really thought past that in the beginning.
How have your designs and designing process evolved?
I went through a phase where I would design things by request, but after a couple years I realized that wasn't what I wanted, and it was burning me out. So, I made a promise to myself to only design things that I love.
What designs do you specialize in?
I focus primarily on baby items and gifts for people going through chemo (hats & shawls), but I do design sweaters as well (because who doesn't love a sweater for every season?!)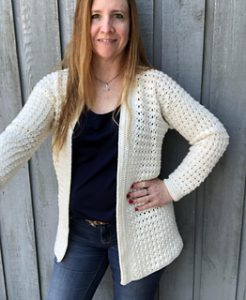 Do you have a favorite few stitches you like to use or do you always try to do new ones?
I feel like I go through phases where I will love a stitch/stitch combo and design with it for a while and then I just need to move on to something else.
When you come up with an idea, does it come first from yarn you have or do you find yarn to fit the idea?
Honestly, maybe it comes from giving away most of my creations for those first few years, but most of my design ideas come from people. I think of a person and what they would like and then I come up with something specific (yarn and design) for them.
When did you start crocheting?
My mother taught me to crochet when I was 5, but I didn't pick it up again until I was pregnant with my first daughter (2001).
What made you decide to become a designer?
Once I made that first preemie blanket I realized I loved designing. I kept a notebook of my designs for the first couple years and then one day decided to write them up and see if anyone would be interested in purchasing them.
Who/what inspired you?  Does this still inspire you?  Why?
Baby showers inspire me. There is something about giving a handmade gift that I just love. My daughters also inspire me. They love wearing my creations and will randomly ask me to make/design things for them.
Of your patterns, which is your favorite and why?
Definitely my American Flag blanket. It took me over 40 hours of planning because I wanted it to be true to scale of the real American Flag. I was able to find schematics from the American Flag and blanket pattern is proportionate and to scale, with 5-point stars and stripes that are a solid fabric (without using sc). It was SO much work, but I was so happy I took the time to do it right.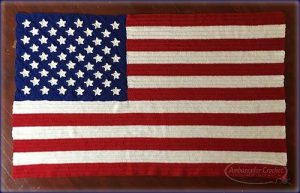 Are there any crochet techniques/stitches you wish to learn this year?
I want to design a top down sweater this year!
What are your biggest crochet challenges and how do you plan on overcoming that?
Time management is definitely my biggest challenge. I go 200% all in for so long and then I burn out and do minimum. This year I've been working on being more consistent so that doesn't happen as often.
Have you ever lost your crojo and how did you overcome that?
I've definitely lost my crojo more than once! The best way I ever found was to set a timer. Convince yourself you only need to crochet for 10 minutes. Usually once I start I can get it back.
What three tips can you offer to anyone that crochets?
1) Try a new stitch or technique.
2) When (not if) you get frustrated, put it down and walk away. Come back to it later with fresh, rested eyes.
3) Ask for help. I am a firm believer that sometimes the best advice or tips come from those who have overcome. I am always available if you can't find the answer to your question.
Wrap Up
We hope you enjoyed learning all about Ambassador Crochet!  If you missed the last interview we did, here it is!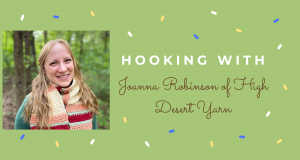 You can view Ambassador Crochet's site here.
---