DIY Photography for Crochet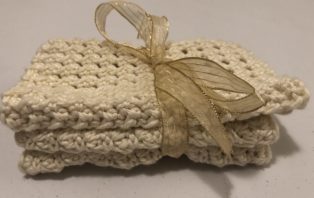 A Look at DIY Photography Tips and Tricks
DIY Photography for your crocheted creations can be hard to do, especially on a budget. I'm going to share my tips and tricks for taking better pictures for posting on social media and Etsy shops.
Starting a Blog…
Today I got up and instantly felt overwhelmed.  I had way too much to do!  Now that my blog is live, I feel like I am playing catch up and need to spend a lot of time taking pictures, making videos, and typing up that blog post!
When I got up, I had two thoughts: 
How long until Paige wakes up? and I have way too much to do!  The answer to the first thought was a few minutes.  For the second one….
I needed to take pictures of my inventory and for tutorials and blog posts. I needed to create video tutorials, to make dinner, to take care of dogs and my daughter, spend time with my daughter, laundry, and on and on and on… 
Luckily, Paige likes to help so she was with me as I took pictures.  When I tried to record videos before my husband came home, she would talk over me asking, "Mommy, are you talking?" "Yes, baby, I'm talking".  So doing the videos at that time was a no-go.  
My pictures are not the most professional pictures out there
Yet I feel that what I am able to do is good enough to get me started.  Most big-name crocheters have a lot of equipment, especially those like Marly Bird and Mikey over at Crochet Crowd and Yarnspirations where they have an entire studio with several cameras and a crew.  Boy I'd like to land some kind of deal like that!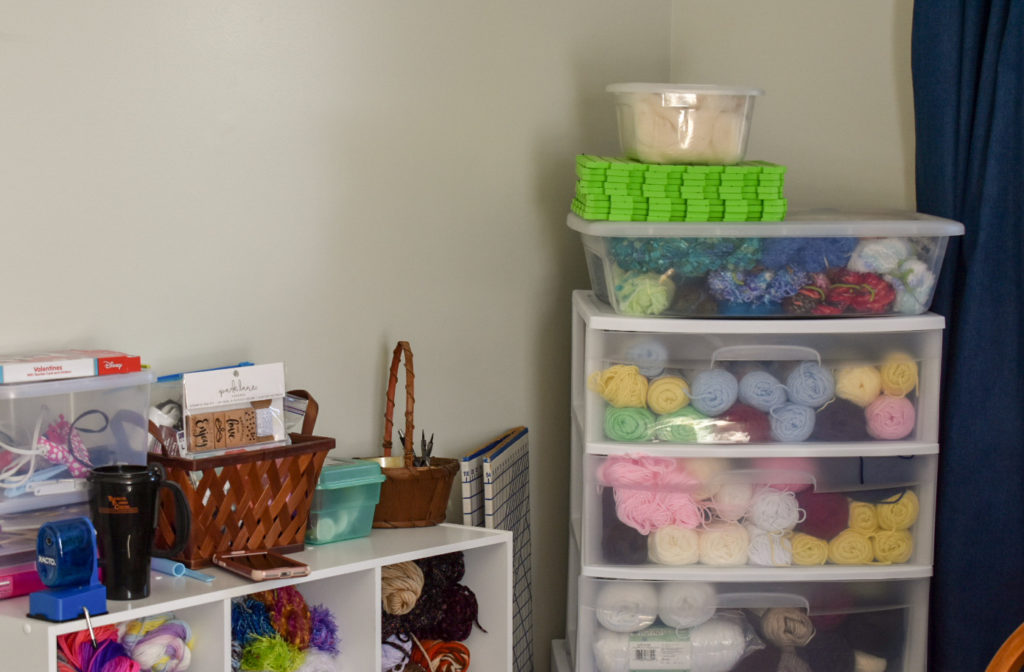 I do have some tips on DIY photography for your projects that are budget friendly (for us poor crocheters) and pretty creative if I do say so myself!
1. You don't need the most expensive camera. 
You don't even need a different camera outside of your phone!  My iPhone takes awesome pictures and I downloaded 4 apps that I like to edit photos with right on my phone!  PicMonkey, PS Express, Photoshop Mix, and Photoshop Fix.  They are all free!  I mostly use PS Express because it's super easy for the non-technical user. You can even get a free version of PS Express for your desktop or laptop.  
2. Lighting–you don't need expensive lamps for lighting.
Just open the blinds or curtain at a window that has full light or the most light.  Natural lighting is the best lighting there is.  It's bright, even, and not yellow.  Colors pop so beautifully with natural lighting. 
Even an overcast day is great.  I like to open a window, shove a table nearby and just work right into that light.  The best part is–it's free! However, don't totally saturate your photos with sunlight. You don't want direct sunlight, just enough to make an even cast over your subject.
In the picture below, there is too much direct sunlight on the subject, creating harsh lights and shadows everywhere. Great example of what not to do.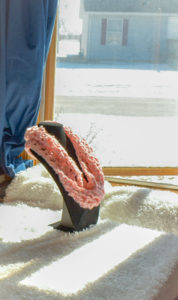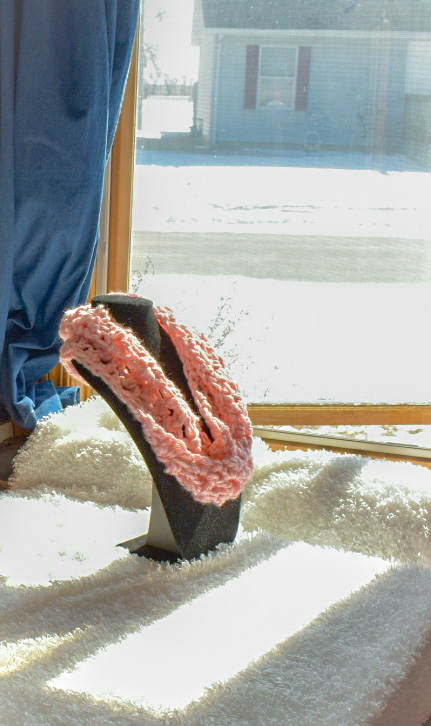 3. Props. 
I use a few things for props at this time.  A fluffy yard of fabric I bought from the clearance section at Hobby Lobby for all of $2.00!  It's so pretty and really makes my handmade items look so chic!  Always check Hobby Lobby's clearance area by the yarn!  I've found so many awesome things there–including super cheap yarn–HELLO! 
I also like to use a good table to drape this cloth over.  You could even use a green cloth if you want to be able to edit in some really cool things to your picture.  I bought a jewelry display bust from Hobby Lobby for about $10.00 and a foam mannequin head for about $5.00 as well.  I use those to display scarves and cowls as well as hats and headbands.  Definitely within budget to get these things!
4. What's behind your subject? 
Is that a completely messy room??  People don't want to see our cluttered messes in the pictures of our projects.  Be mindful of what's going on in your photo!  You can use a blank space of wall or a clean and neat door for a background. 
If you are really crafty, you can make a PVC frame that holds a sheet (your choice on color!) and place that right in front of the open window or off to the side of one.  The sky really is the limit for ideas on backgrounds.  Think outside the box, get crafty!  Then use your photo editing software to fix the rest!
For my table, I have an 8 foot long craft table that folds in half for storage.  I purchased mine from Wal-Mart.  They are also available at Target and Sam's Club. These tables come in black or white and in various shapes and sizes.  They are very affordable–I think mine was just under $30.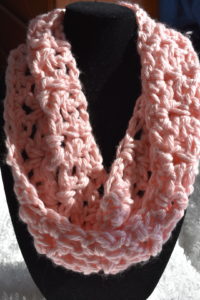 DIY photography for handmade items can be hard to get the hang of at first. This short guide on taking better photos from what I learned from my mistakes and about 100 YouTube videos and about as many articles, should help you get started.  Keep practicing and playing around with your photos and you will be a pro at it in no time!  
Have fun taking pictures and hook on my wayward daughters!
---