Textured Beanie with Ribbed Band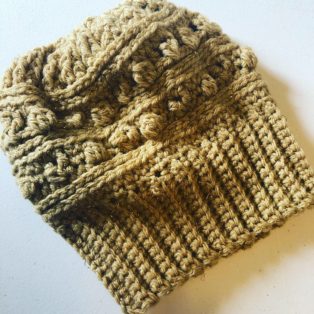 The Paige Hat, A Textured Beanie With Ribbed Band
You might be wondering why I'm so excited about this textured beanie. It could be because I love the sparkly yarn I used. Or it could be that it was worked from the bottom up. Yet really, it's because this is my first ever design.
See for yourself. I now have my first pattern published and ready on Ravelry! You can view the pattern details here. 
You can also find this pattern in our shop here
And on Etsy, here.
Textured Design
I wanted something that stood out, that would look good in a single color or in multiple colors. Since I love a good band on a beanie, I decided to work from the bottom up, to get that ribbed band.
Firstly, the popcorn stitching really POPS out (pun intended). Yet the modified X stitch just about creates an O shape. Together, it almost looks like hugs and kisses, which I initially wanted to name the hat. I decided to name it after my daughter, who inspires me every day.
Secondly, I wanted something that would separate the textured rounds to help it stand out better. Using the "camel stitch" between these textured rounds really helped create a clean and clear division between textured rounds. The camel stitch is also known as waistcoat stitch, half-double crochet third loop, and crochet knit stitch. So many names!
The Band
For the band, I wanted it to be ribbed, so it looked cozy and followed the trends. I personally dislike the beanies that just sort of "end" with no good finish to them. These are typically worked from the top down. There is a way to get a band by working from the top down, it just doesn't look quite as clean and neat.
Therefore, I used a single crochet back loop only design that is typically used to create a ribbed texture. Some designers like to use the slip stitch in the back loop only for this however, I feel that it is much harder to work with since slip stitches tend to be pretty tight. I just don't have time for that kind of a work out!
Optional Finishing Touch
I was going to add a faux fur pom pom to the top of my beanie but I just could not find one anywhere. Yet wouldn't you know? Joann's had them all on sale 50% off the next day after I made the pattern and took all my pictures!
I did buy plenty of them. That won't happen again!
Thank you for joining me in my crochet journey. I hope you find joy in all your crocheted creations.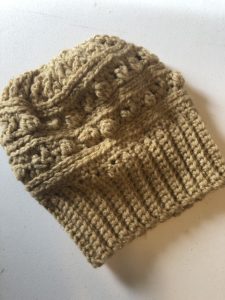 Bean Stitch instructions, here.
X Stitch instructions, here.
Camel Stitch instructions, here.
Popcorn Stitch tutorial, here.
Our other patterns for the head: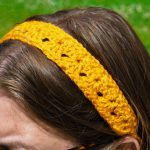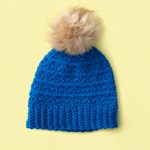 Did you know we have a YouTube channel?
Click here to head there now and see all the great tutorials and patterns we have available!  While you're there, subscribe to the channel and hit the little bell icon to be notified each time we upload a new video or go live!  Like, share, and comment on our videos–this helps us to grow which is the best support we could ask for, at no cost to you!
---