Round up of Patterns for Him!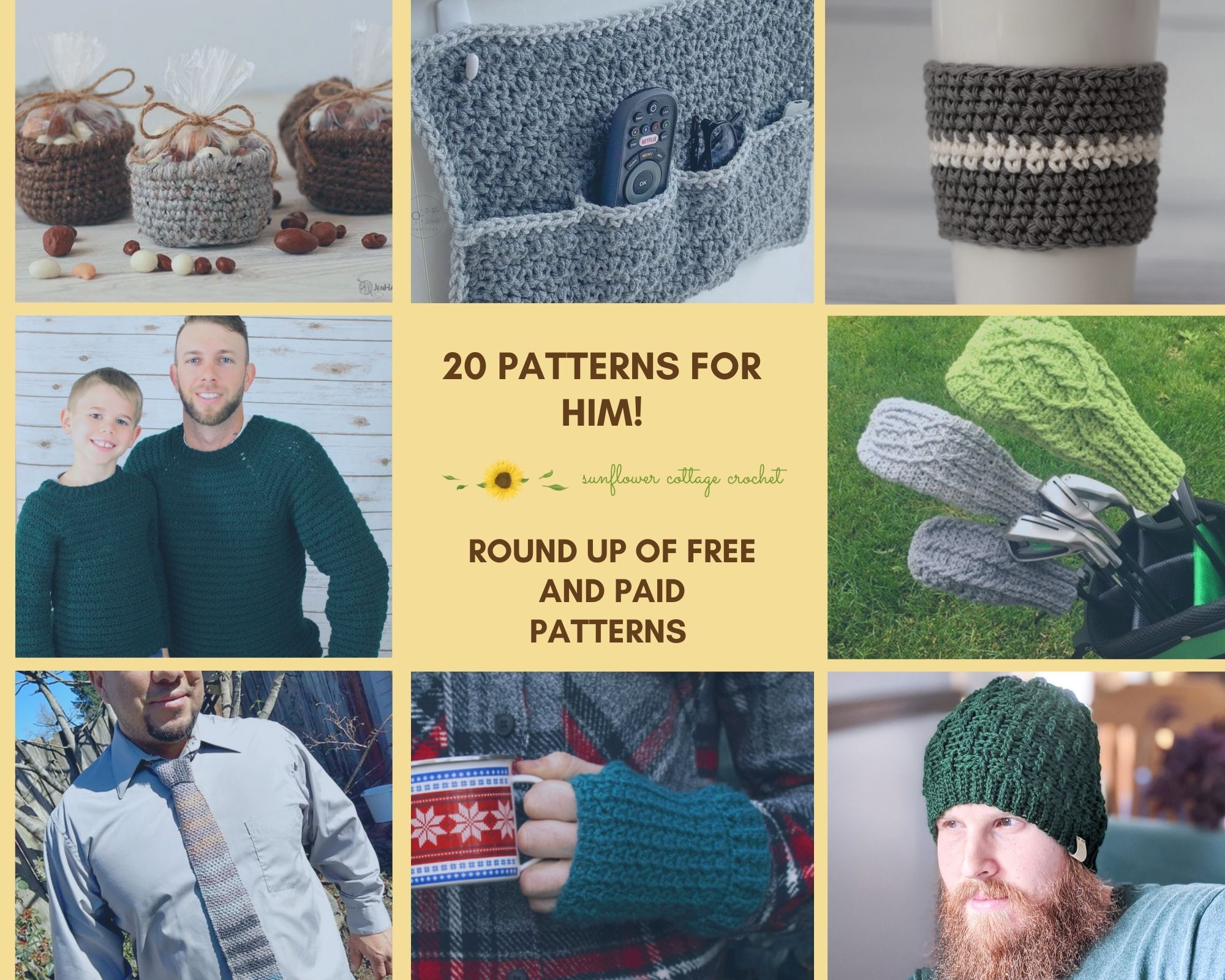 Did you know that April 17th is Husband Appreciation Day? So let's celebrate the men in our lives with a roundup of patterns especially designed for him!
Husbands, we love them dearly don't we? And when we have sons we hope (most of the time) that they grow up to be like their dad. But some days don't you think that they go out of their way to drive us batty? Whether it's getting the kids all excited after letting them eat a load of chocolate, refusing to learn even where the laundry basket is let alone use it, or leave 1 sheet of loo roll roll on the tube so they don't have to replace it. And how many times do you have to ask for something small to be fixed or moved?
We all get frustrated…
Just yesterday I got annoyed at all the crap there is in our garage when I couldn't put something away. I've been asking for MONTHS (at least 4) for it to be sorted and moved. Richard came in and asked what needed doing. WHOOPH! My small and mighty temper was let loose as that final straw broke.
After my blood pressure reduced somewhat and the vein in my head stopped throbbing I felt so guilty! I mean, yes, I've asked for the garage to be dealt with at least 700 times, but he works hard FOR US. He takes phone calls on weekends and vacation days FOR US. When he is working away (which is often at the moment) he makes sure to pick up the phone TO US whenever we call or rings back as soon as he can. And my goodness his hugs make all the difference on those crappy days!
But I couldn't dream of a life without him there to push my buttons and give me those much needed hugs. For days like yesterday this man deserves the world for staying put!!
So on April 17th I will most definitely be trying to do something special to show him how much I appreciate him.
I reached out to some designer friends looking for patterns specifically for him and now have a round up of 20! So whether you are celebrating Husband Appreciation Day, or just wanting to show appreciation for a fantastic father, uncle, brother or son, maybe this collection of patterns will inspire you.
Click the pictures to go to the blog posts or pattern pages!
Richard Wrist Warmers by Sunflower Cottage Crochet
Free on the blog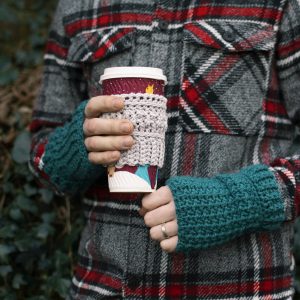 We will start the roundup with one of our own patterns. The Richard wrist warmers are free on our blog. Click the photo above to go to the blog post. These use a stitch that is perfect for him – in fact these came about because the men in the office wanted a pair of our Susan Wrist Warmers LOL. I confirm that the guys still wear theirs! Yes, these were names after my husband.
Simple Crochet Treat Basket by Jen Hayes Creations
Free on the blog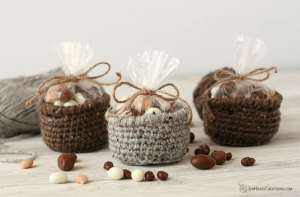 This is a great idea! You could use this basket for anything – fill it with treats, use it to collect the changes, keys and other 'stuff' they collect in their pockets daily but ends up being flung around the bedroom when they are getting ready for bed.
Remote Holder Crochet Pattern by Jo to the World
Free on the blog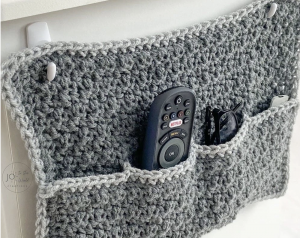 How handy is this one? You could put it anywhere and use it for just about anything. I love the idea that all the remote controls would be kept in one place with this. You could also make the pockets bigger so that it could hold a book and glasses if your husband likes to read. Or you could use it to hold bathroom essentials and roll it up in a suitcase for this business trips or vacations!
I Love You Can Cozy by Jo to the World
Free on the blog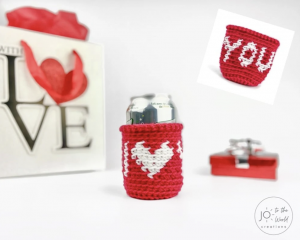 This pattern is cute! Honestly, I am not sure how many men would  use this one when you weren't around, but the sentiment is definitely there and I am sure they would be proud to use it during an afternoon in the garden or at a picnic in the park!
Earl Grey Cup Cozy Pattern by Rich Textures Crochet
Free on the blog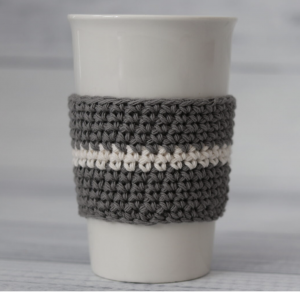 If your husband likes something a little more understated then this may be it! You could put so much meaning into it just with the colours you chose – maybe use the colours of your birthstones for the top and bottom section and the colour of the birthstone for the month you married in the centre? Or go with traditional and use his favourite sporting team's colours!
Simple Crochet Booties by Meladora's Creations
Free on the blog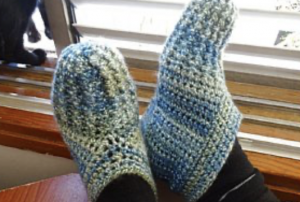 What about some crochet booties to keep his feet warm around the house? If it was me, I would sew some leather or suede onto the bottom of these to try to prevent any slipping and falling, but if he only wears them to watch the game …. The great thing about these is that they are completely unisex! They are a gift for anyone and everyone.
Golf Club Cover by Sweet Potato 3
Paid pattern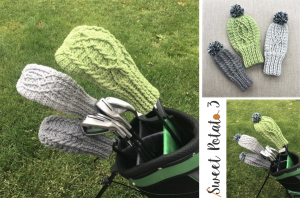 This may be just the thing for some of you! I would have never thought of creating covers for golf clubs, but it's a good job Christine did! I think this is a perfect gift idea for men (or women) who golf – I know a couple of golfers and their clubs mean the world to them so these would definitely be appreciated!
Woven Stitch bookmark pattern by Sunflower Cottage Crochet
free on the blog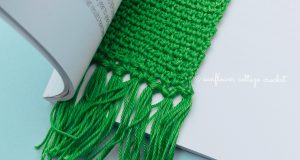 This one is perfect for the book lovers! This simple woven stitch bookmark is a free pattern on our blog and we have a video tutorial to help you work the stitch if you have not tried it before. I also include a photo tutorial on how to make the tassels. I made mine over 2 years ago and they are still going strong!
On Hold Blanket Pattern by Shelby Shea's Stitches
Paid pattern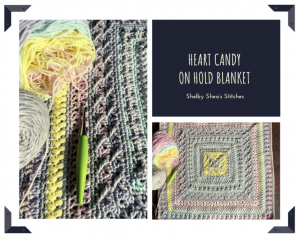 If you are looking for a bigger project Shelby created this blanket especially for her husband. She is quite a new blogger but if you click the picture you can read more about this one, the materials list etc and there is a Ravelry link in there.
Crochet Flower Pot Cozy by Classy Lady Yarnworks
Free on the blog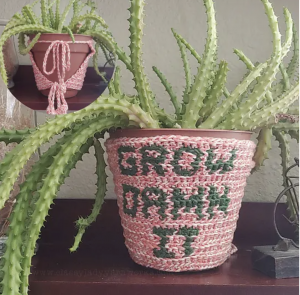 Now, if you do not like curse words then Stephanie will not mind me saying that she is not the designer for you. Those words also make it to her designs and onto her blog posts. That being said, her designs are original and full of sass and humour. So if this resonates with you by all means check out what she has to offer.
This is one of her tamer designs and if it is your cup of tea then check it out.
Buddy Basketweave Beanie by Rebekah Haas Crochet
Free on blog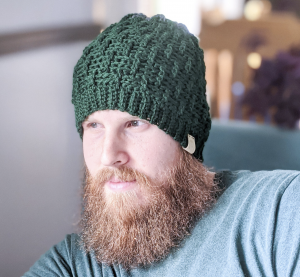 Are you heading into Spring and warmer weather where you are? Here it feels like we are looking at a second (or is that third ?) winter! Seriously, it is April and it was snowing today! If your hubby is outdoors a lot or likes to walk the dogs and take the kids to the park then this one he may really appreciate.
Metro Scarf Pattern by Ambassador Crochet
Paid pattern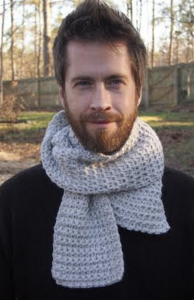 It's really difficult to go looking for men's patterns sometimes isn't it? I really like the look of this one. Kristine has kept it simple but given it a lot of texture with her stitch choice which makes this a great gift for him!
The Bolton Beanie by Fiber and Fox
Paid pattern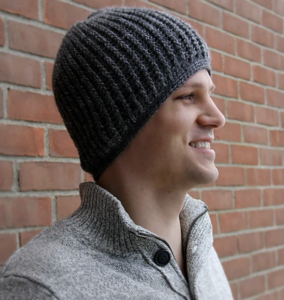 This is another pattern with a great texture suitable for him! Actually it is a great unisex beanie, so another pattern that you can have in your library to pull out for just about anyone! It uses front post and back post stitches to create this gorgeous texture.
Colour Block Super Scarf by The Loophole Fox
Free on the blog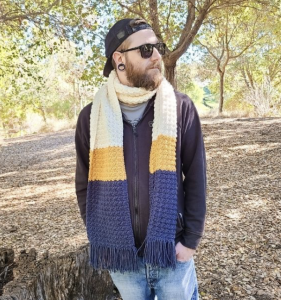 Colour blocking can look so great! This pattern has such a great texture and the colour blocking really sets it off! What colours would you use?
Louis Cozy Crochet Throw by Creations by Courtney
Free on the blog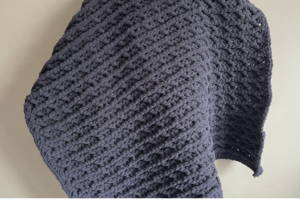 This one uses #6 weight yarn and a 10mm hook so it works up quickly and is so handy to keep by the sofa. Snuggle up under it together and watch a movie!
Dude Sweater by Two Brothers Blankets
Paid pattern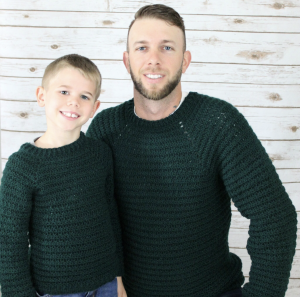 This pattern is available in both child and adult sizes from age 2-12 and adult small to 2XL! I love that there is a daddy and me pattern out there!
Dude Blanket by Two Brothers Blankets
free on the blog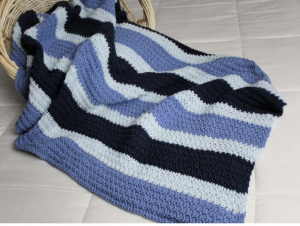 Michelle actually has a whole Dude Collection! But this blanket is free on her blog. It works out at 55″ x 65″ so is a great size for him. You will need around 4500 yards of #4 weight yarn and 5.5mm hook.
Dad's Soap on a Rope by Through the Loop Yarn Craft
free on the blog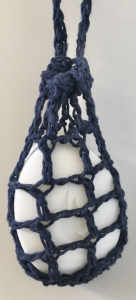 This one is a quick scrap buster and is a male friendly version of the soap saver that we find in most spa sets. Ashley notes in her post that
'My husband took the soap on a rope for some trial runs for me, and just loved it! He did use it for the life of the soap and it managed to stay in there the whole time too. He liked that it was less "girly" than the other soap savers I have made and he said the "soap to rope ratio was perfect for just a bit of scrubbing power". '
Newberg Tie by Bliss This
Paid pattern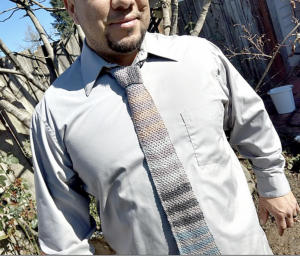 Amber designed this one using sock yarn and designed it for the little guys as well as the big guys! You could have so much fun with this one just through use of colours! Would you man love this one?
Grayson Hanging Basket by Sunflower Cottage Crochet
Paid pattern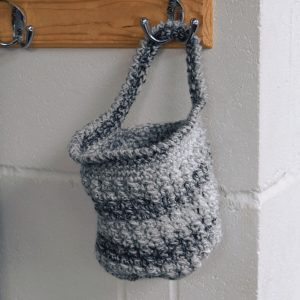 Handy storage baskets are great for both men and women! I like the handle on this one as you can hang it on the end of your bannister, on a door handle or on the post of your bed to keep you bits and bobs in. I made one for my mother in law and she uses it for her glasses and medicines and hangs it on her bed post so they are within easy reach!
So there you are 20 ideas for gifts to show him that you appreciate him! What will you be doing to mark Husband Appreciation day this year?
Don't forget you can follow Sunflower Cottage Crochet in all of the usual places: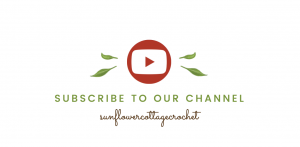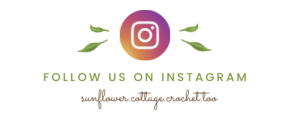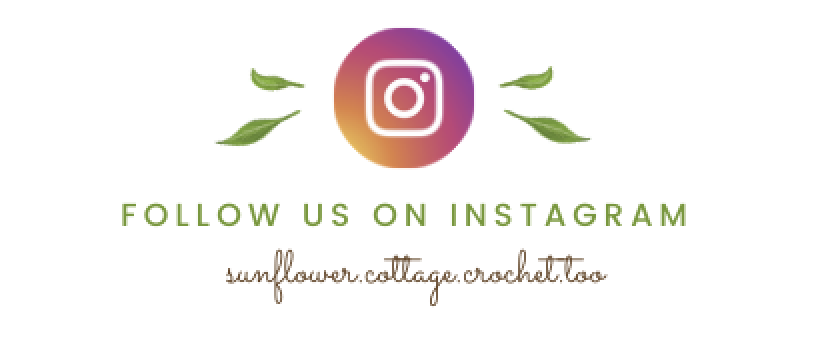 ---