Love Reading? The Elegant Bookmark (s) are a must!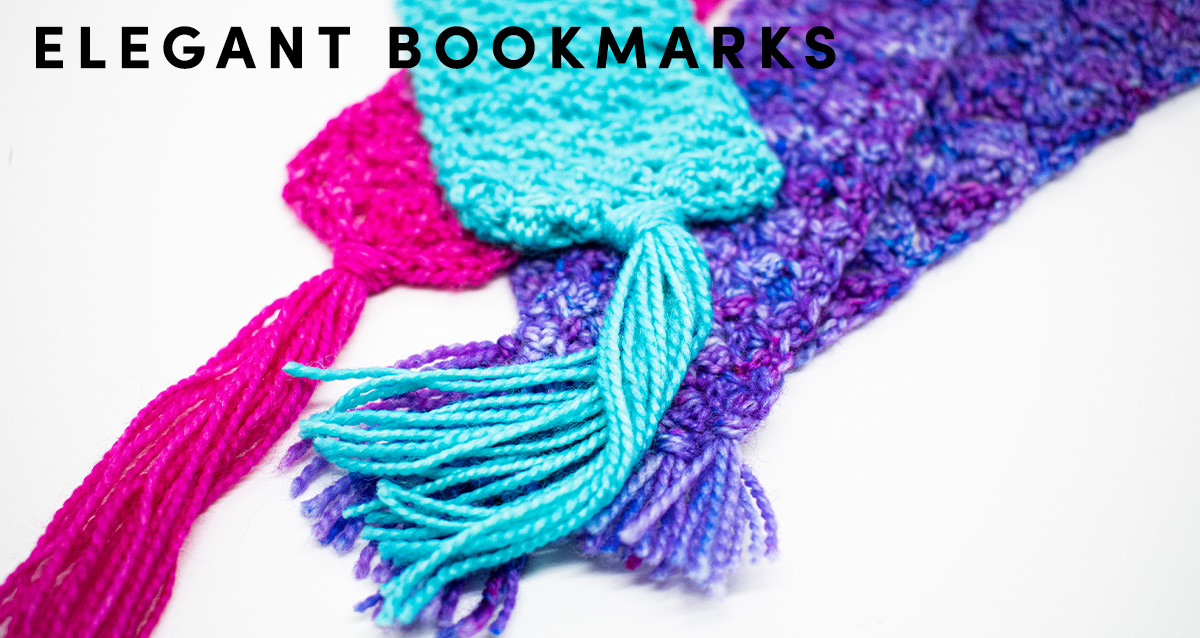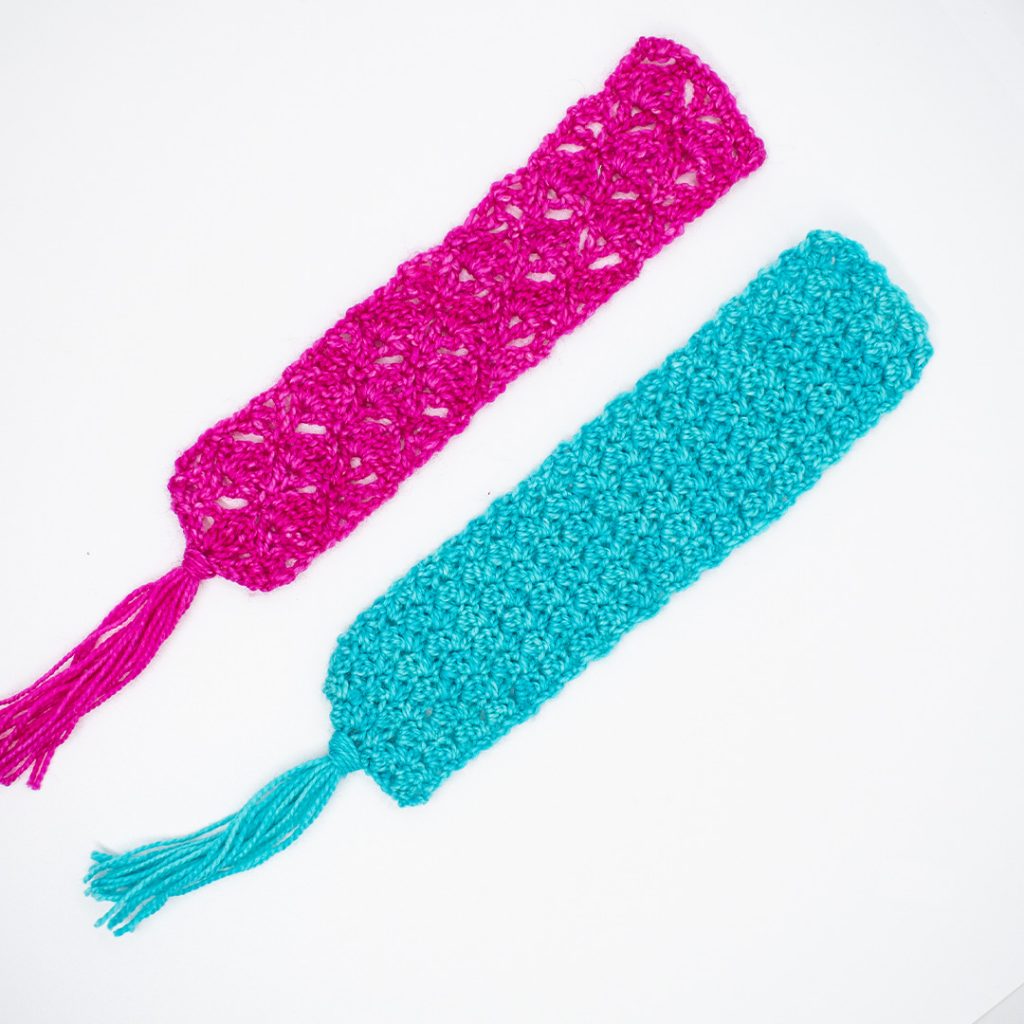 Are you an avid reader? Is someone you know? If so, you can't go wrong with making a bookmark.
My daughter seems to think books are like WIPs – it's fine to have 6 books on the go! It drives me bonkers just thinking about it. In this she is definitely like her Daddy. So consequently, I am always making bookmarks for her.
Yes, you guessed it, I am a one book at a time and one WIP at a time kinda person! What about you?
Whenever I do try to make a bookmark for myself Jorja uses it, takes it to school and then comes back with orders for 6 more! (Let me be clear here – I don't charge them anything for them!) 
I actually don't mind making bookmarks for all of her friends or class. They are great gifts and if it encourages them to read a little more then I am all for it! It is also a fabulous opportunity to use my scraps or try out a hand dyed mini skein. My local yarn shop has her own beautiful hand dyed yarns and I can get a mini skein for less than £4. I get 3 bookmarks out of them (usually). 
What type of books do you like to read?
I love historical fiction (especially Phillipa Gregory) and some legal crime books (think John Grisham and Karin Slaughter). Recently I bit the bullet and read the Tattooist of Auschwitz  – it has been sitting on my shelf for almost 2 years taunting me but I was scared that it might make me feel sad and cry!  I immediately read Cilka's Journey (the follow up book) and have 2 more similar books sitting waiting for their turn to be read.
Shop your stash for 4ply (Sock / Sport weight) yarns and check out the free bookmark pattern below!
You can also use #3 weight yarns (DK), but remember that your bookmarks will be wider and a little thicker. That's usually not an issue though.
PDF Pattern Links
Materials
any 4 ply or fingering weight yarn … approximately 27 metres
3mm hook 
Stitch markers (optional)
Scissors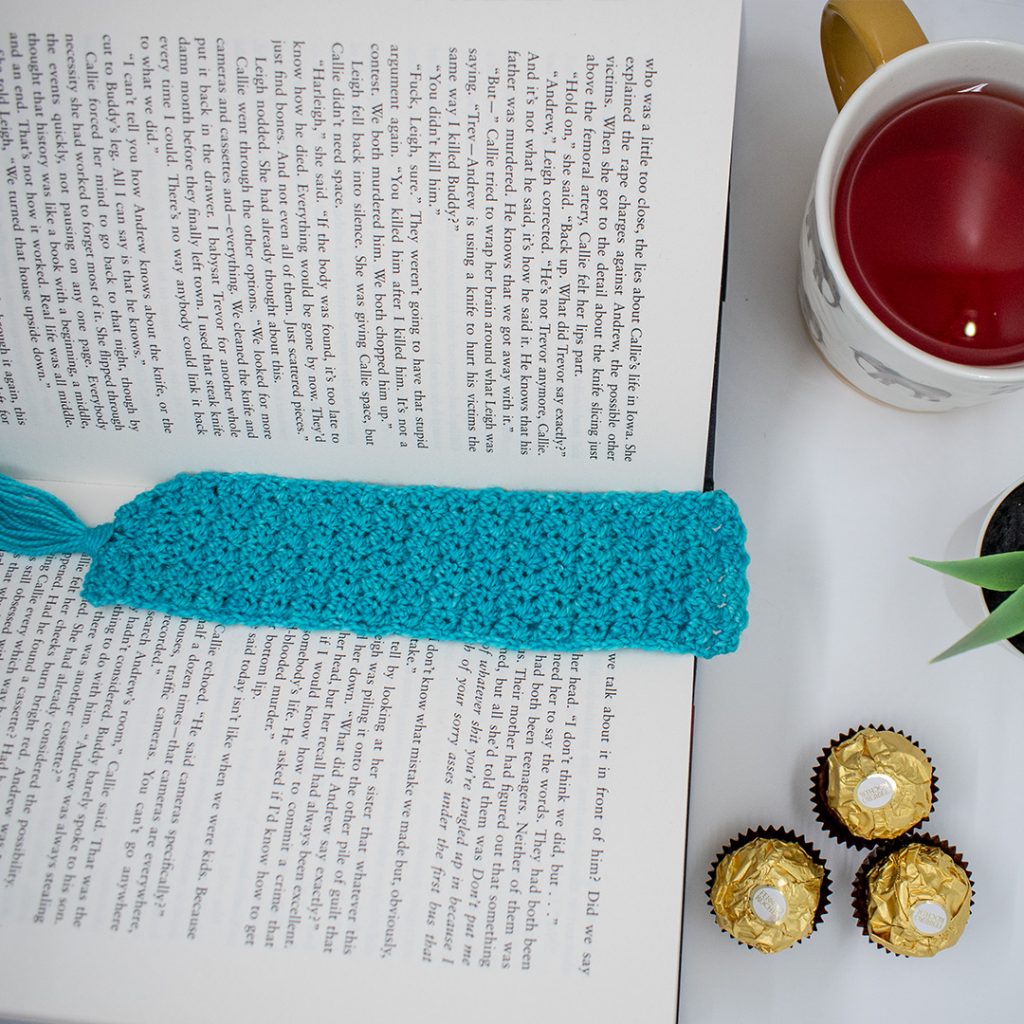 Gauge
Gauge is not important for this project as long as you are consistent in your tension.
Sizing of your bookmark
If you use 4 ply or fingering weight yarn your bookmark will be approximately 1.25'' wide by as tall as you want it! Mine are about 8'' tall.
Abbreviations:
CH – chain
CH sp – chain space
St / sts – stitch / stitches
Sk – skip
SC – Single Crochet
DC – double crochet
Rep – repeat
FO – fasten off
Pattern notes:
Written in US terms
This pattern is reversible 
Ch's at the start of the row do count as a st unless specifically stated otherwise.
You can embellish these any way you like – with tassels, buttons, fringe etc.
Special Stitches:
Foundation Single crochet
Foundation stitches give a better finish to your projects. You can find our video tutorials on how to work these stitches at:
                               Right handed – https://www.youtube.com/watch?v=wPHOG4VIi_Q&t=200s
                             Left handed – https://www.youtube.com/watch?v=UqkTFzCja-A&t=28s
The Pattern for the Turquoise bookmark: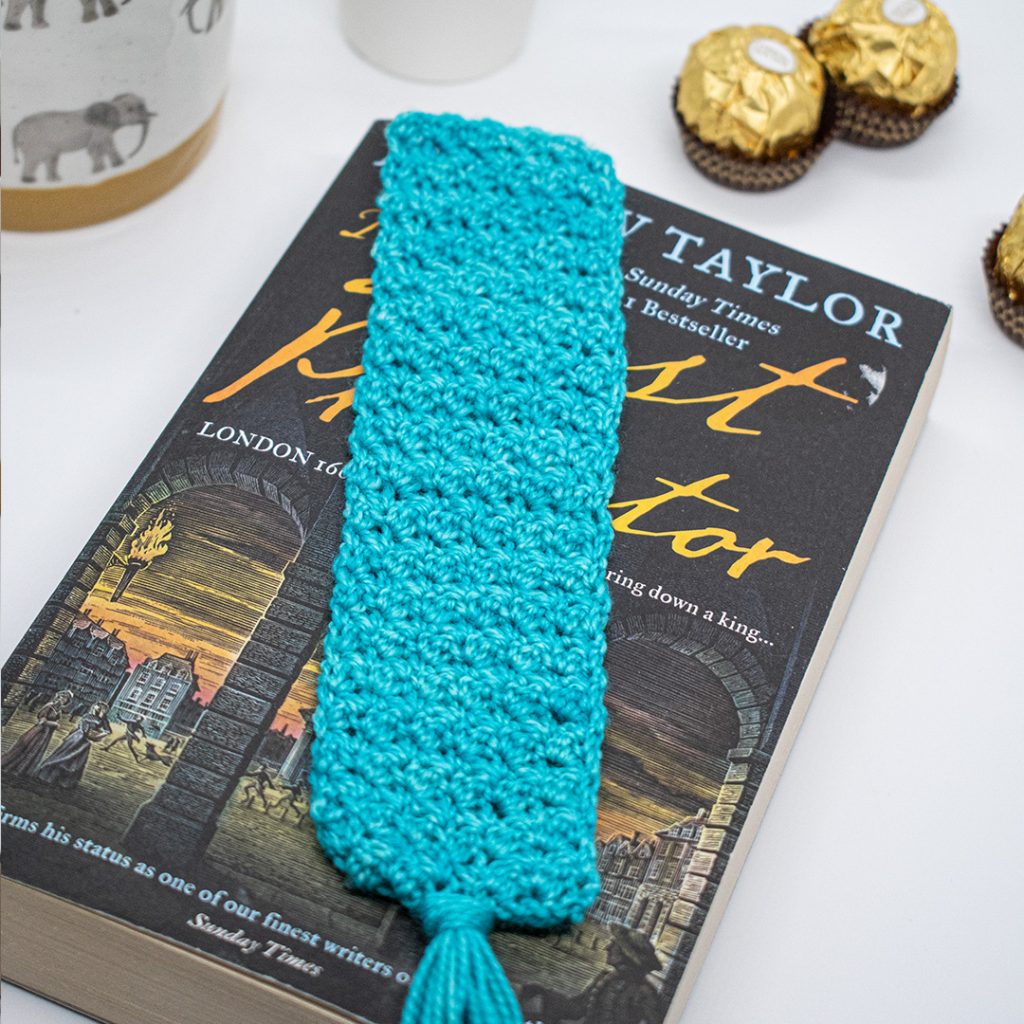 Row 1:           FSC 12 
Or
CH13, sc in second CH from hook and each st across (12) 
Row 2:       CH1, turn, DC in first st, *sk1, [SC, DC] in next st* rep from * to * until 
you have 2 sts left, sk 1, sc in the last st.
Rows 3:     CH1, turn, DC in first st, *sk1, [SC, DC] in next st* 
(Note: you will be working the [SC, DC] into the SC stitches from the
  previous row.)
Rep from * to * until you have 2 sts left, sk 1, sc in the last st.
Rows 4 – 45:     Rep row 3
Row 46:     CH1, turn, sc in each st across.
Fasten off and sew in ends, embellish any way you want to with tassels, fringe etc.
The Lacy bookmark is available on the PDF Pattern.
The New Year's Resolutions Blog Hop
These patterns were designed for the New Year's resolutions blog hop event hosted by Cosy Rosie UK.
Have you made any resolutions this year?
I want to read more this year. I love reading but my crochet seems to be getting in the way of that, even on an evening. So these patterns were designed for me really!
I love that this set has an obviously feminine bookmark AND a unisex bookmark – yes you get BOTH patterns in the PDF ….
How does the blog hop work?
Each day you need to check Fiona's blog post for the link for that day's featured free PDF Pattern and get the code while you are there. Click that day's pattern and the designer will have a special button on their page where you will be directed to the pdf link.
If visiting each day to get that day's featured pattern isn't your thing, or there are some patterns coming up that you want to make yesterday, then why not consider the fantastic bundle that is on offer for you?
In the bundle you can get your hands on all the 31 crochet patterns featured, right now for less than $0.50 per pattern!! 
There really is no need to wait to get started on all these inspiring crochet patterns! Just click the button below!
---