Keyhole Scarf – A Great Stash-buster!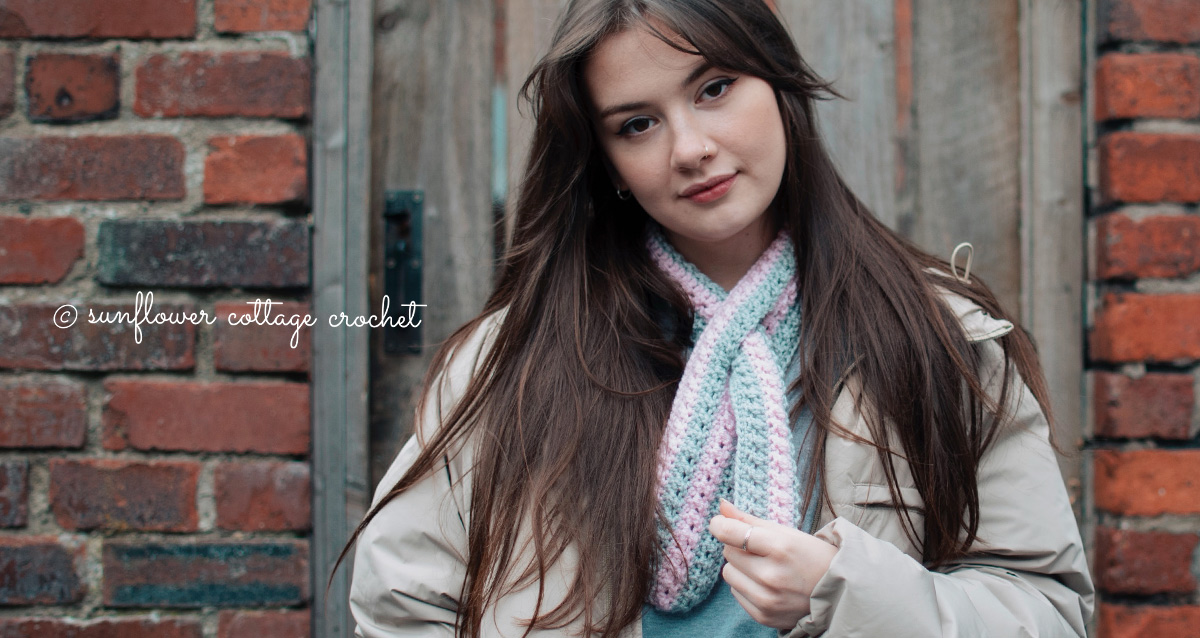 This keyhole scarf crochet pattern has been sitting waiting patiently to be released for FOREVER. It was actually written and tested in 2019!! So it is time that it was published and officially released.
And great news …. I have decided to add it as a FREE pattern below and have included both child and adult sizes!
What is a keyhole scarf?
A keyhole scarf is a scarf made with a gap in it so that you can pull one end of the scarf through the other without having to fold, or wrap the scarf when wearing it.
This makes it perfect for the springtime and autumn as it looks cute under a coat but your neck and chest do not get too hot and sweaty.
It also minimises the bulk under your coat if you like to tuck your scarves in.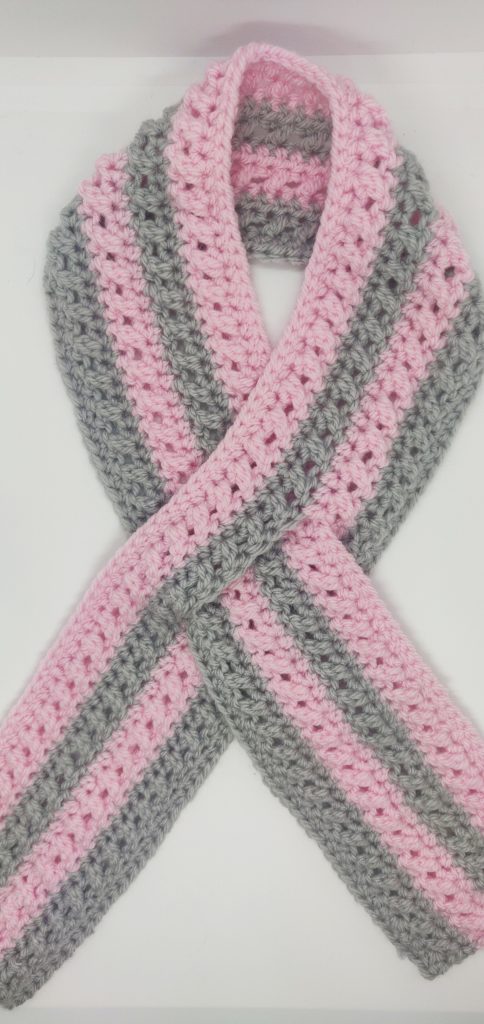 The keyhole scarf crochet pattern is a simple pattern that looks great in one colour or in several! This makes it a fantastic scrap buster too.
Yarn
To make these you will beed #4 weight yarn. I used Paintbox Simply Aran for the blue and white version and Stylecraft Special Aran for the pink and grey.
Any #4 weight yarn would work great with this pattern – Raid your scrap bucket and see what you have.
Do you want a quick make? Do you love to donate scarves to charity? This crochet pattern is perfect for both of these.
PDF Pattern links
If you prefer you can download an ad free pdf copy of this pattern from any of my shops:
Stitches used in the keyhole scarf crochet pattern
This pattern is probably geared more towards confident beginners. It uses a favourite stitch of mine – the X stitch (the cross stitch). There is the option for a chain start or using the foundation stitches to start.
If you would like to check out the foundation start there is a tutorial on the Sunflower YT channel which goes through all of them.
Materials needed:
#4 worsted weight yarn
5mm hook
– 1 skein of Color A
– 1 skein of Color B
Stitch markers (optional)Scissors
Tapestry needle
 
 
 
 
 
Gauge
 Not important for this project but rough sizing is below.
Sizing
The child version works out at approx. 37" long and 3.5" wide. 
The adult version is the same width (3.5") but approx. 47" long.
Abbreviations
| | |
| --- | --- |
| Ch(s) – chain(s) | Ss – slip stitch |
| St(s) – Stitch(es) | FO—fasten off |
| Rep – Repeat | XS—X stitch  |
|  Fhdc—foundation half-double crochet |   |
|   |   |
|   |   |
Pattern Notes:
   Written in US terms
Ch1 or 2 does not count as a stitch
Pay attention to stitch placement and read the instructions fully
Be sure to watch the video for the X stitch if the instructions do not make sense to you
If you want to change colors while working this one you could change every other row (and work 3 rows on the last color) or change every 3 rows. Alternatively, you could alternate between two or three colors every row. There are so many options here.
The Pattern
Row 1–         Ch 140 (160).  Hdc in 2nd ch from hook and across
                        OR
                        FHDC 138 (158)
Row 2–         Ch3 (counts as a dc here and throughout), turn, XS across (see special stitches), dc in final stitch.
Row 3–         Ch2 (does not count as a stitch), turn, hdc in 1st st and in each across 
Are you changing colour here?
Row 4–         Repeat row 2
Row 5–         Ch2, turn, hdc in first st and next 28 sts, ch10, sk 10 sts, hdc in next st and in each to end.
You are more than half way there now!
Row 6–         Ch3, turn, XS until you reach the ch10 space, work  5 XS across the chain making sure to place each stitch into the chain instead of around it; continue working the XS across to the end, placing a dc in the final stitch. 
You may want to change colour here too.
Row 7–         Repeat row 3
Rows 8-9       Repeat rows 2 and 3 once more.  
FO and weave in ends.  Push the end of the scarf that doesn't have the hole thru the hole of the other end to wear this scarf.
The New Year's Resolutions Blog Hop
I though this pattern would be perfect for the New Year's resolutions blog hop event hosted by Cosy Rosie UK.
Have you made any resolutions this year?
I mentioned in my elegant bookmark post about wanting to read more. I am also on a mission to use my scraps and part used skeins in 2022!
How does the blog hop work?
Each day you need to check Fiona's blog post for the link for that day's featured free PDF Pattern and get the code while you are there. Click that day's pattern and the designer will have a special button on their page where you will be directed to the pdf link. Granted there is only today and tomorrow left!
If you have missed any of the days or are only just finding out about this event then I would recommend checking out the great bundle that is available!
In the bundle you can get your hands on all the 31 crochet patterns featured, right now for less than $0.50 per pattern!! Be quick – there is only a few days until the price goes up on this one!
---