Hooking With … Mary Beth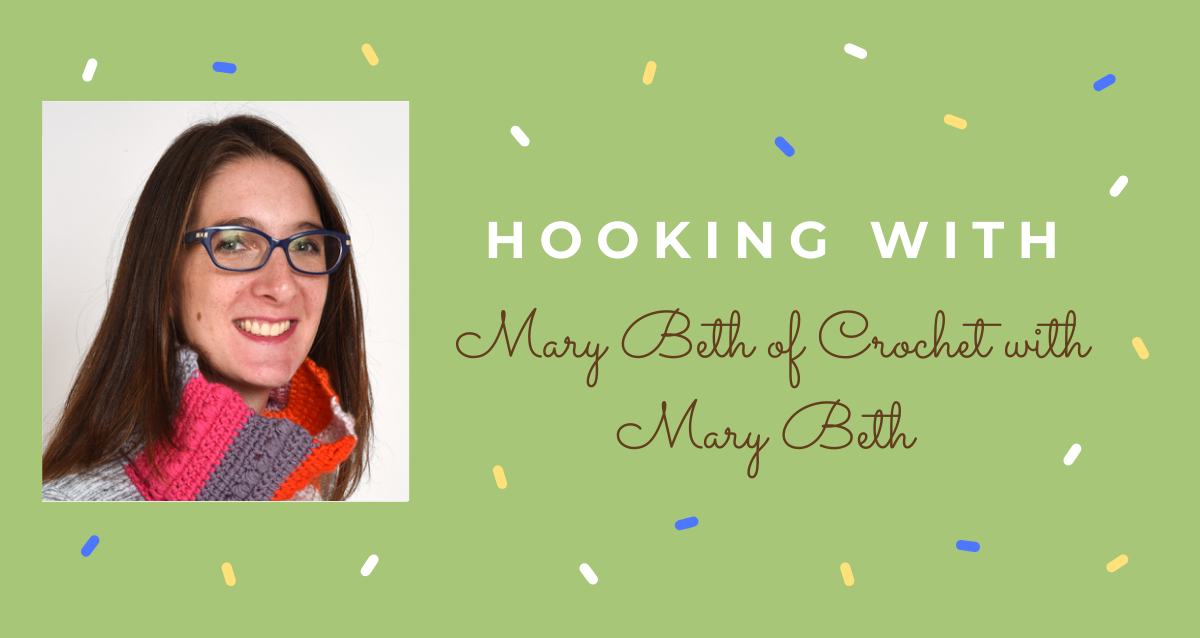 Mary Beth is a designer I came across about a year ago now. She is the lady behind Crochet with Mary Beth and is such a sweet lady who likes to crochet fashion! I also like that she has some book reviews on her blog. Anyway, less from me, let's hear from Mary Beth!
Welcome Mary Beth! Tell us a little about yourself …
Hi there.  I'm the crochet designer and illustrator behind the blog Crochet with Mary Beth.
I design on-trend yet unique crochet patterns of garments and fashion accessories for women.
My journey to crochet design has been a fun and crazy one.  Crafting was my main hobby as a child and there was no question art would be my profession someday.  Consequently I went to Syracuse University where I majored in Illustration.  After that I landed a fun job as a full-time toy designer.  A handful of years later I went on my own.  I was a full-time freelancer for many, many years illustrating everything from greeting cards, to books, to party goods to jewelry and everything in between.  During that time I wrote and illustrated 17 published paper crafting books.
Two years ago I started designing my own crochet designs and just recently I've started illustrating crochet themed coloring pages.  So keep a look out for those coming soon.
Along the way I got married and had a really cool kid.  Crazy right?!  But pretty fun for sure!
When did you start designing?
I started designing crochet patterns two years ago.
Do you have a blog?If so, when did you start that up?
I have a blog crochetwithmarybeth.com . The blog was birthed at the same time as my first pattern two years ago.
What was your initial plan with your blog and designs?
At first I had a totally different idea for the blog. It was going to be called "crochet reviews."  I bought the .com and everything.  I was going to follow crochet patterns from books and review the books on my blog.  My Dad laughed when I told him the idea.  He said, "You're going to review other people's pattern designs?  You?  Mary Beth Cryan?  Ha-ha.  You're a designer at heart.  You can't NOT design." And he was right.  He's always right and he always beats me at miniature golf too.  About 2 months later I started designing my own patterns and changed the name of the blog.  I've started but never completed another designer's pattern since.  But you can see the remnants of that old blog if you go way back to the beginning of my current blog.
How have your designs and designing process evolved?
My design process has evolved over time.  At first I would crochet the whole garment freehand.  Then I would go back and write the pattern.  That process involved A LOT of frogging and a LOT of forgetting what I had done.  So now I sketch the pattern first, figure out all the measurements, outline the pattern instructions, and then crochet the garment to see if my notes are correct.  A lot of revising happens along the way but I am very careful to write everything down. This saves a lot of time and sanity.
What designs do you specialize in?
I specialize in garments and fashion accessories for women.
Do you have a favorite few stitches you like to use or do you always try to do new ones?
There are so many different stitches to try I always have a hard time picking one out for my newest project. This is usually the longest part of the design process for me.  The silhouette, concept, and color all come to me easily and seem just right the first time I think of them.  It's the stinkin' stitch pattern that I'm always overthinking.
When you come up with an idea, does it come first from yarn you have or do you find yarn to fit the idea?
My ideas always come from fresh fashion trends. I see fringe and want to make something with fringe.  I see a million cool ponchos at Target and I want to make a poncho.  Then I figure out a new unique design that I'm going to put fringe on and go figure out what yarn to buy.  I like using the newest trendiest yarns that come out too.  I'm a bit of a sucker for the newest shiniest object.
When did you start crocheting?
I started knitting really a long time ago. Like, I taught myself from a book, long ago.  Crochet I picked up in 2017.
What made you decide to become a designer?
I've been a designer/illustrator of other things for work since 2000. I tried NOT to start designing crochet patterns.  But eventually I was like, "Hmm.  Wouldn't that be cool if this bag was like this and made out of this yarn and had bobbles on it and… shoot, Dad was right."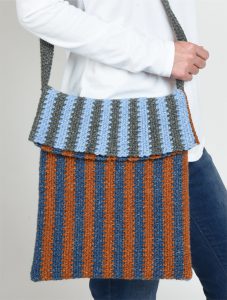 Are there any patterns not your own that you just love?
I love every design that Alexandra Tavel comes up with. That chick is amazing.  I wish I could push myself to be as outrageous as Katie Jones.  But I suspect I'm just not as zany as her in my core.
Who/what inspired you?Does this still inspire you?  Why?
I'm inspired by anything new and fresh. A new color combo, a new silhouette, a new embellishment, anything new sends my heart pitter pattering.   I love trends.  I know the word trend has a bad connotation for some people.  But a trend is just the newest consumer buying habit.  Why did everyone want to buy owls in 2014 and now llamas in 2020?  I don't know.  But isn't it fascinating?  And what will be next?  I can't WAIT to find out.
Of your patterns, which is your favorite and why?
My favorite pattern is always the last one I completed.
Are there any crochet techniques/stitches you wish to learn this year?
I really want to learn more about making garments, actually everything about making garments.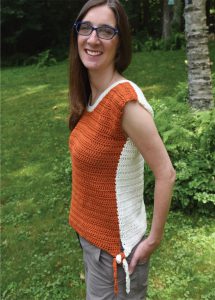 What are your biggest crochet challenges and how do you plan on overcoming that?
My biggest crochet challenge is that it takes me a while to put out new patterns. I can't figure out how other designers are getting new patterns out so quickly.  I'm still investigating this.
Have you ever lost your crojo and how did you overcome that?
I don't think I've ever lost my crojo. Why?  Did you find it somewhere it's not supposed to be? 😉
What three tips can you offer to anyone that crochets?
Don't worry if you make a mistake. No one is going to notice.
Keep going!  If you stop a project it won't get finished.  If you never stop it will eventually get finished.
Use a million awesome colors in your makes and then tag me on Instagram @crochetwithmarybeth so I can see them!!  I love color!
Thank You Mary Beth!
I love learning about what makes other designers tick and I know that lots of you enjoy these interviews too!
Mary Beth has given me the link to her newest free pattern to share with you. Check it out here.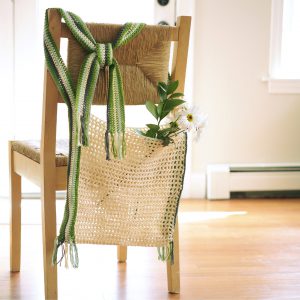 I love the simplicity of this pattern! Sometimes its not about how much texture you can get into a pattern, but its simplicity can make it stand out and look fabulous!
---