Crochet Phone Case Pattern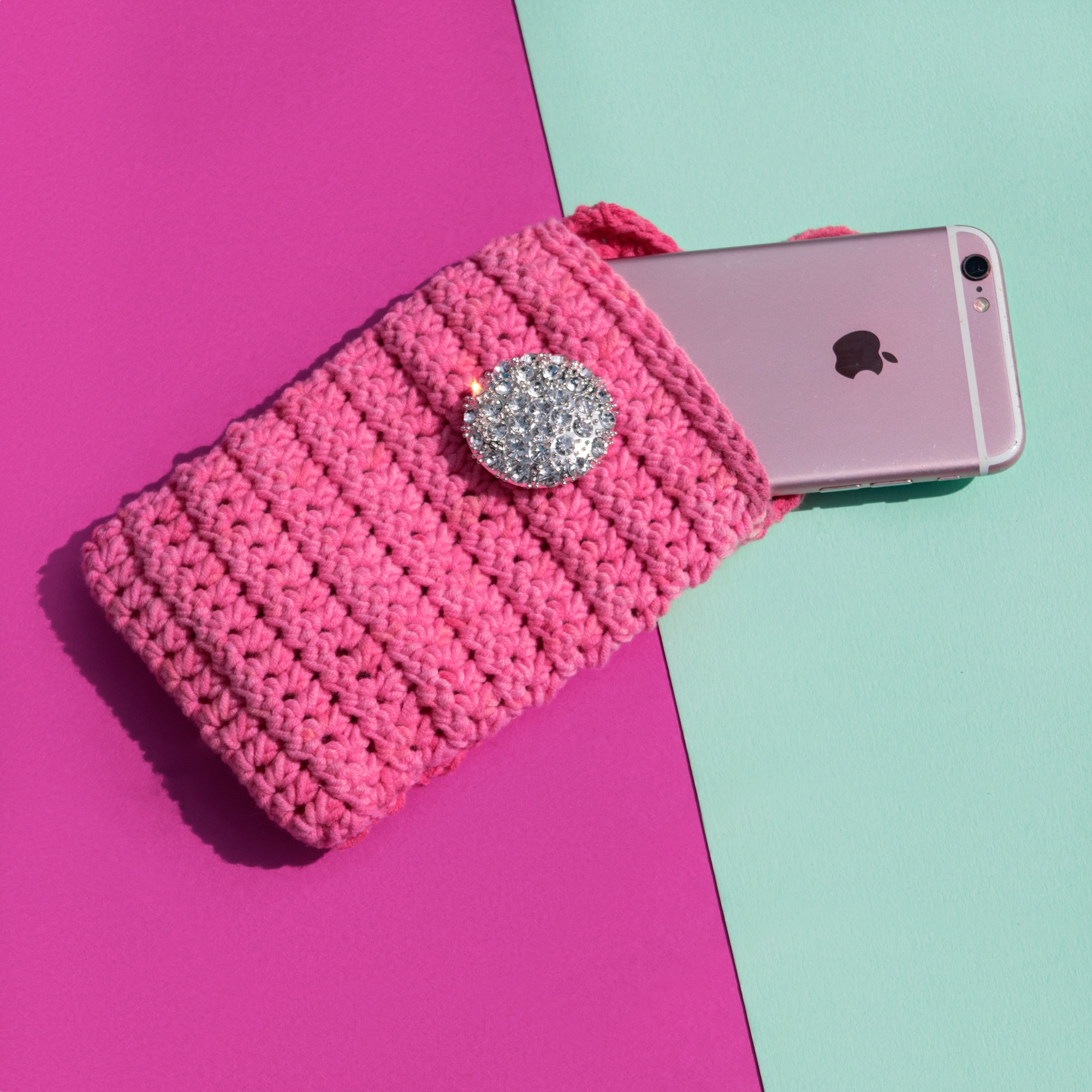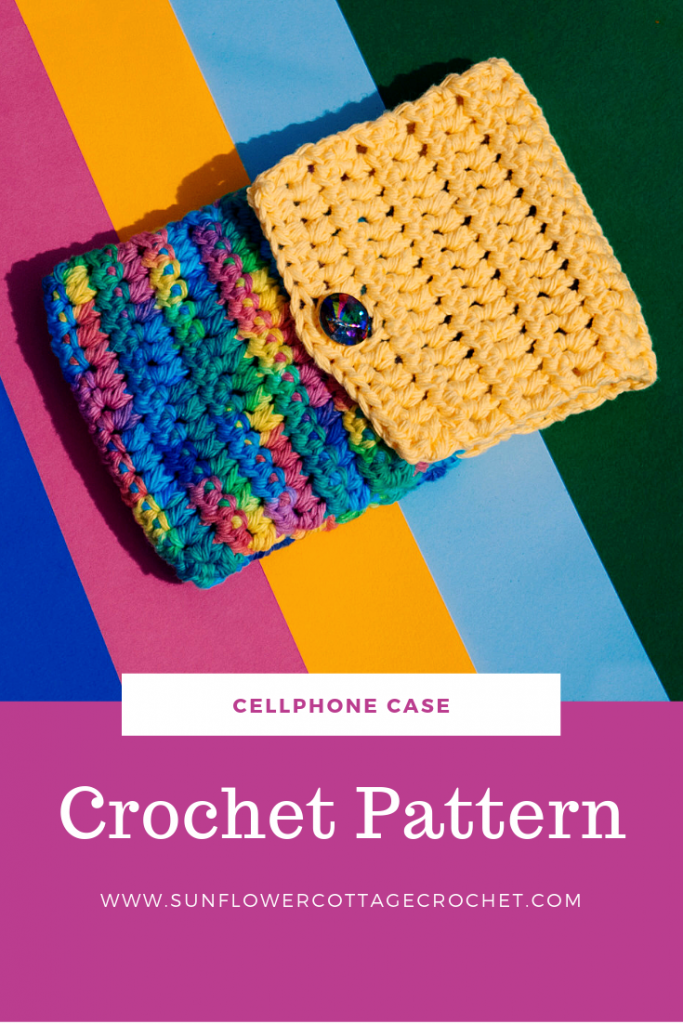 Crochet Phone Case Pattern using the paired half-double crochet stitch
When we started the stitch of the week the plan quickly became to get you guys a little pattern that goes with each stitch allowing you to practice it and actually make something at the same time
I mean, who just wants to make swatches?
Sometimes at Sunflower headquarters we look at a stitch swatch and think 'That would make a great…..' and the pattern just comes to you so vividly and quickly its awesome. Other times you look, and look, and look.
Or you come up with the same kind of thing that you have already done recently. We want to make learning new stitches more fun than that and mix it up a little.
So, for the paired half double crochet we looked at the swatch and thought that it would be perfect for a mobile phone case
You get ready to go out, make sure your keys, purse and other important items are in your handbag (tissues, gloves, umbrella just in case the wind changes and blows those thick clouds back our way…)
And then you throw in your phone, the one thing in your purse that contains everything you need to survive in the modern world – the facebook and pinterest apps, online banking app, the controls to your central heating system at home and the ability to see and talk to your pooches (who are at home doing their thing) wherever you happen to be that day….
You get the picture.
A phone case isn't just a practical necessity, it can also look pretty and reflect your personality too
We have two options for you within this pattern.
The first is the pink case – very feminine. I had the button at home that a pen friend sent me from America. I loved the bling of it but could never find the right thing to put it on. A phone case seemed to fit the bill as it is something that will be used every day, so I get to look at the pretty sparkles whenever I like.
The multi coloured case is much sassier and definitely would not get lost amongst all the clutter we tend to keep in our handbags.
So which one are you?
This post may contain affiliate links.  These links help us keep the blog going at no extra cost to you!
For either case you will need:
Gauge is not important.
Abbreviations:
Ch—Chain
Hdc – half double crochet
FHDC – Foundation half double crochet
Phdc – paired half double crochet
St(s)—Stitch(es)
SS – slip stitch
Rep—Repeat
*to*–Repeat the instructions written between the two *
FO – fasten off
Note: ch1 does not count as a stitch unless specifically stated.
Special Stitches:
Phdc –
Ch 1, In the first stitch HDC, *yo pull hook into the stitch that you have just worked, yo pull through, yo and pull through all 4 stitches on hook.* Rep from * to * across.
FHDC
Pattern for the pink case: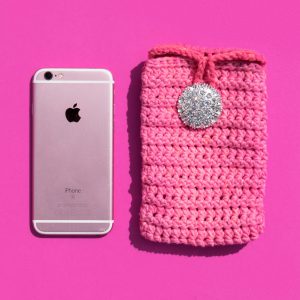 Row 1:
Fhdc as many as required to get the width of the phone plus 2 extra. I did 16
Or
Ch as many required plus 1 and in second chain from hook HDC in each chain across
Rows 2-37 – ch1, turn,  Hdc in first stitch, Phdc in each stitch across (see special stitches
Repeat row 2 as many times as is required to get twice the length of the mobile phone plus an additional 1 row.
Row 38 – ch1, turn. Hdc in each st across.
Row 39 – turn, ss in each stitch across until you get to the middle one, Ch several times to create the loop that will fasten to the button. I chained 18 as I used quite a large button. I wanted it to be a focal point for the case as it was so pretty!
SS into the same st from the previous row (the one that you started your chain with) and continue to ss in each st across.
FO, leave long tail for sewing the sides of the case together.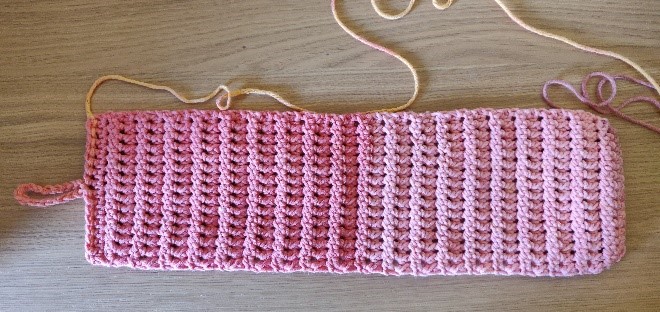 Fold case in half. I left a few rows at the top so that I got a little flap on mine, but you don't have to (see picture below)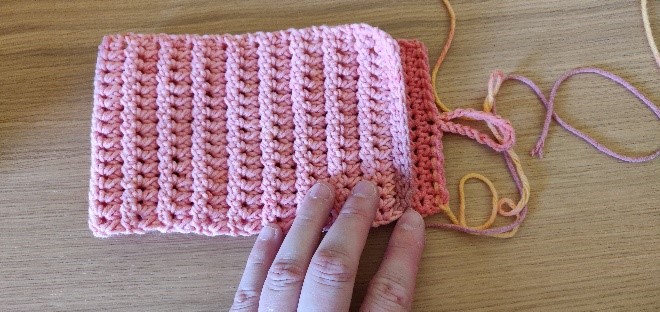 Sew or ss down each side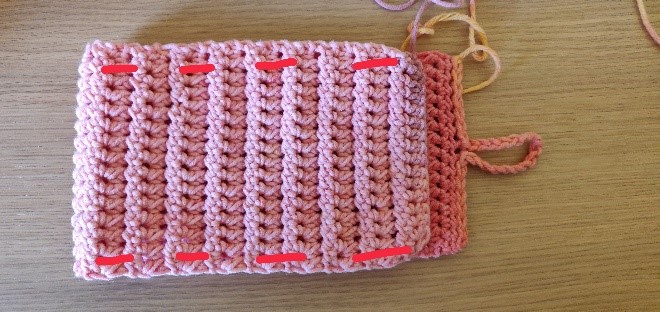 Attach your button and you are done!
Download the free PDF version here
For the multi-coloured phone case: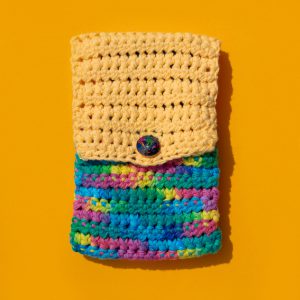 Row 1: FHDC 16 (or as wide as phone plus 2)
Rows 2- 40 : ch1, turn, hdc in first st, phdc across.
Note – I changed colour after 24 rows
Row 41 – ch1, turn, Hdc in first st, phdc in next 6 sts, ch2, sk2 (this will create the button hole), hdc in next st, phdc across
Row 42: ch1, turn, hdc in each st across including 2hdc in the ch2 sp.
Fasten off
Fold the bottom section so that it will nestle approximately ¾ of the phone and sew the sides together.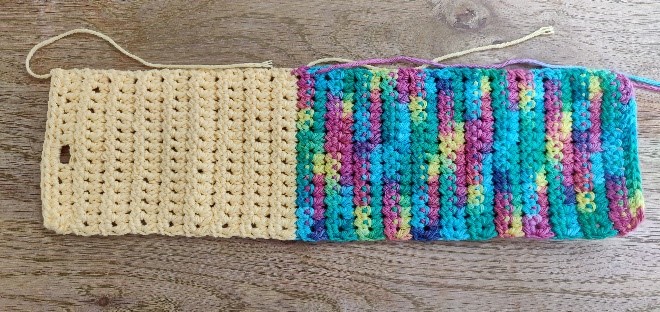 Sew in ends
Add button where desired.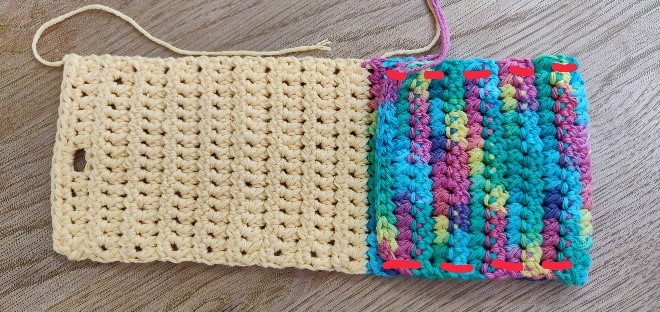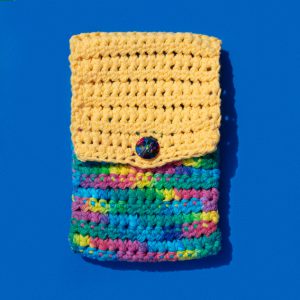 Et viola!
An easy peasy phone case (or handy hook case!) using our stitch of the week.
Download the ad-free PDF version here
Similar Patterns:
Crayon Pencil Case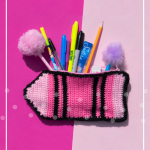 Dinosaur Pencil Case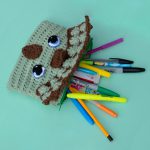 ---