Sun at Home Event – Free Patterns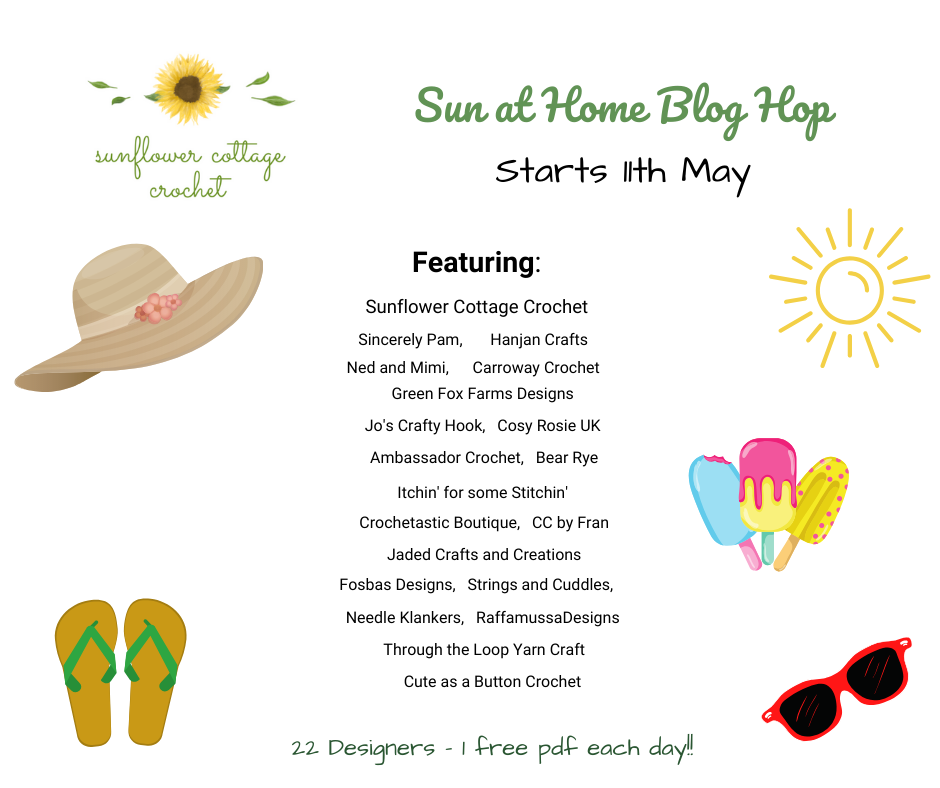 We have teamed up with some  designer friends to bring you the Sun at Home event – each designer will offer you a FREE PDF Pattern for one day during the rest of May.
The patterns offered to you are for items that you can use outside in the garden if you (like me) are forced to stay home for 23 hours a day.  There will be something for everyone! There will be everything from coasters, sun hats, afghans and lots in between!
Please Note:
Patterns will be free from midnight EST until 11:59pm EST on their featured day only.
How it works
This round-up will be updated between 8am-10am BST each day with the links to the new featured pattern of the day.
Scroll down to the photo of today's pattern and click on it.
If the designer has a blog you will be directed there where you can get all of the information about the pattern, sizing, yarn etc. If not, you will be directed to the appropriate page to download the pattern.
On the designer's blog post they will have a button especially for this event. Click the button and it will take you to the free pattern link.  The button will look like this:

Use code SUNATHOME to get your free pdf!
If directed to Ravelry it would be awesome if you could also show the pattern by adding it your favourites and / or commenting on their blog post. These are small gestures that can really help the designers 🙂
Return tomorrow to get the next pattern!
Day 1: May 11th – the code has now expired for this one!
Check out these monogrammed coasters / mug rugs by Sincerely Pam.
I really love these mug rugs and can't wait to make some myself! They are a great way to personalise a gift and would also make great office or teacher appreciation gifts!
Pam has thought of everything and includes a tutorial on tapestry crochet, how to change colours and how to read a graph. Everything is there for you to give these a go!
Click on the photo or go here.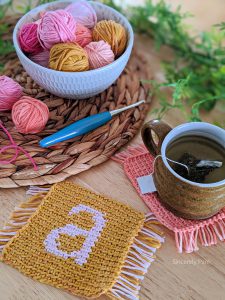 Day 2: May 12th – No longer available with the code!
This gorgeous shawl by Hanjan Crochet has some fabulous drape. Its a modern take on a c2c project so if you are looking for a fabulous twist on the traditional c2c project then this is for you! It is written in both UK and US terms.
Shawls are great because you can use them all year … as a scarf in winter or over the shoulders to keep the breeze off you in summer. They are one of those projects that get used regardless.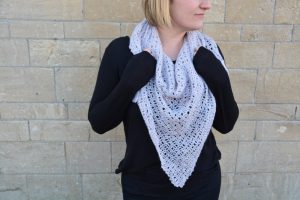 Day 3: May 13th – no longer available with the code!
Today's offering are these great 9 minute coasters from Ned and Mimi. You really can make one of these in 9 minutes so they are awesome stash busters if you have some t-shirt or super bulky yarn. They would make a super addition to the patio table or picnic bench.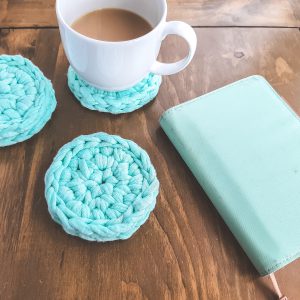 Day 4: May 14th – No longer available with the code!
Carroway Crochet are featuring this Iced Coffee Cup Cozy. Now, with our coffee beanie cozies I know how great these things are! Not only do they protect your hands from the cold or the heat coming through the cup, they also help to stabilise the cup and help prevent accidents! Did you know they had that built in health and safety feature? I didn't until I learned the hard way and burned myself on a very hot cup of tea one time when the cup lid flew off with the heat and the cup crushed in my hand ….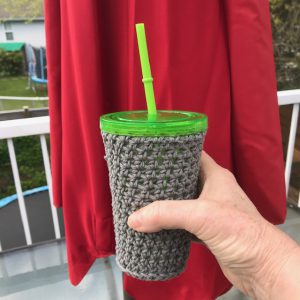 Day 5 : May 15th – Code has expired!
Today's pattern just makes me smile! These Freeze Pop Sleeves from Green Fox Farms Designs are just fabulous and there is something to suit anyone! I can see these being a firm favourite with the kids. And they are great scrap busters.
And as a special treat it is free until midnight on Sunday!!
To get your FREE PDF Pattern you need to go here or click on the photo below.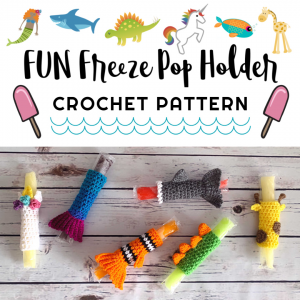 Day 6: May 16th – no longer available with code
Bear Rye is offering you a free pdf copy of their Sunny Sorbet Shawl! I love the colours she used in this one (I find myself very drawn to yellows!) This shawl can be used to keep the summer breezes from your shoulders or as a scarf in cooler seasons. Don't you love it when your accessories have multi-purposes?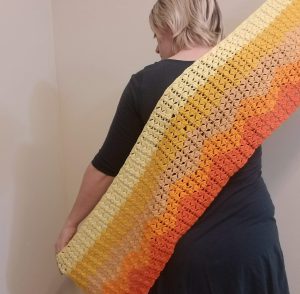 Day 7: May 17th – code has expired!
Bunting is such a great way to cheer up a garden, or any room in the house! This one from Cosy Rosie UK is perfect! Bunting is a great stash buster and scrap buster too. It would also help to make a lockdown birthday special, make it in red, white and blue ready for July 4th, or just because! They are so easily personalised too – appliqués, felt letters, buttons, ribbons, crocheted flowers… The world is your oyster with how you make this one your own.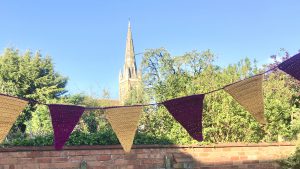 Day 8: May 18th – code expired
This Summer Breeze Throw by Ambassador Crochet is perfect for watching the sunset / sunrise on those warmer days, or sitting under while you watch the kids run around the yard or the world go by on your porch. It has a gorgeous lacy texture  so it looks stunning and you won't get too warm under it as you enjoy the warmer months.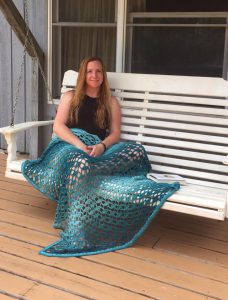 Day 9: May 19th – code has expired
Today we feature Itchin' for some Stitchin' and her fabulous gingham placemats. You can make these in any colour combos to suit your kitchen decor or just make them bright for the garden table so the kids can have their picnic or barbecue outside! They also make cute gifts.
If you haven't tried a gingham project before but like the look of it go for it! Gingham isn't difficult and once you work out what you are doing with your yarns you can wip these up in no time 🙂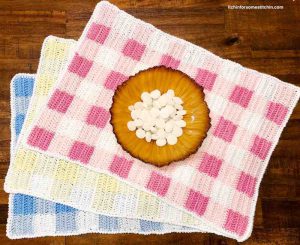 Day 10: May 20th – code now expired
These Magnolia Springs Mug Rugs are a great stash buster and (I think) have a rustic feel to them. They are quick makes and great for adventurous beginners due to the use of the star stitch, but there is a lot of great videos on how to do this stitch on YouTube!
Use the code above in the 'how it works' section and grab the pdf version of this free from the link here. Or click on the photo below.  When redirected scroll down to the button which will take you directly to the Ravelry pattern.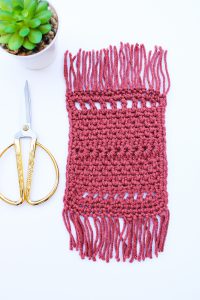 Day 11: May 21st – code expired
Have you seen the Wrapped in Diamonds wrap from Jo's Crafty Hook? It uses the argyle stitch and is so pretty! Its a great summer wrap because of the lacy texture of it and is perfect for those summer evening walks or wearing in the garden while you read a good book or watch your hubby barbecue.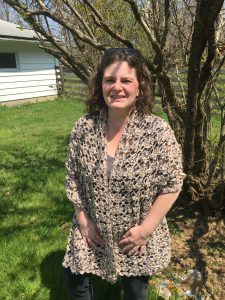 Day 12: May 22 – Code expired
Today's pattern is one for the smaller children! Jaded Crafts & Creations have this understated but super cute bonnet in sizes 0-24 months. It gives the perfects amount of cover to protect their little heads from the sun with a slight brim to keep the sun out of their eyes whilst they are playing!
If you have no children to make this for it would make a great item to donate!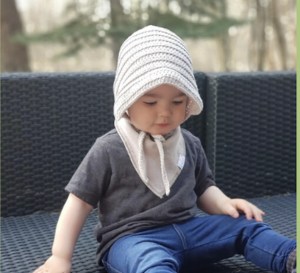 Day 13: May 23rd – code expired
Don't you just love a sunhat? This one brings me back so many memories! Of course, this one is much cuter than the plastic ones we had as kids! I love Fosbas Designs' take on this. It is practical, functional and will not take up much room in your bag if you aren't wearing it.
The pattern has sizes from toddler to adult so you can make one for the whole family.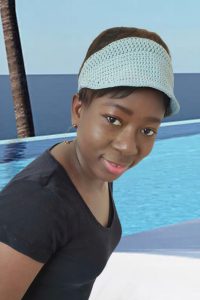 Day 14 – May 24th – code expired
For those of you who also love a more traditional sunhat with the whole head covered, Strings and Cuddles have designed this rather beautiful sun hat.
The pattern requires 250-400 yards of worsted weight cotton and a 5mm hook. Its makes a super cute mummy and me project! I can think of several people who would love one of these. Its a pity Mother's Day has been and gone!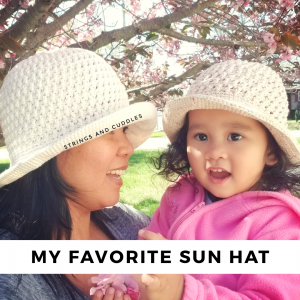 Day 15: May 25th
Needle Klankers are gifting you this beautiful lacy shawl today. Its called Flowers in the Garden Shawl and is another one perfect for keeping that summer breeze off you or keeping you warm as you sit by the campfire while the sun starts to set. It is made with 4 ply yarn and a 5mm hook so the drape will be just gorgeous.
This pattern is available as a free pdf download until midnight EST tonight!
To get yours grab the coupon code above, then click here or on the photo below. You will be taken to the designers blog post where you will be able to see all of the information about the pattern. If you want it click on the button in the post and use the coupon code.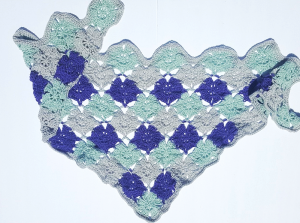 ---
---